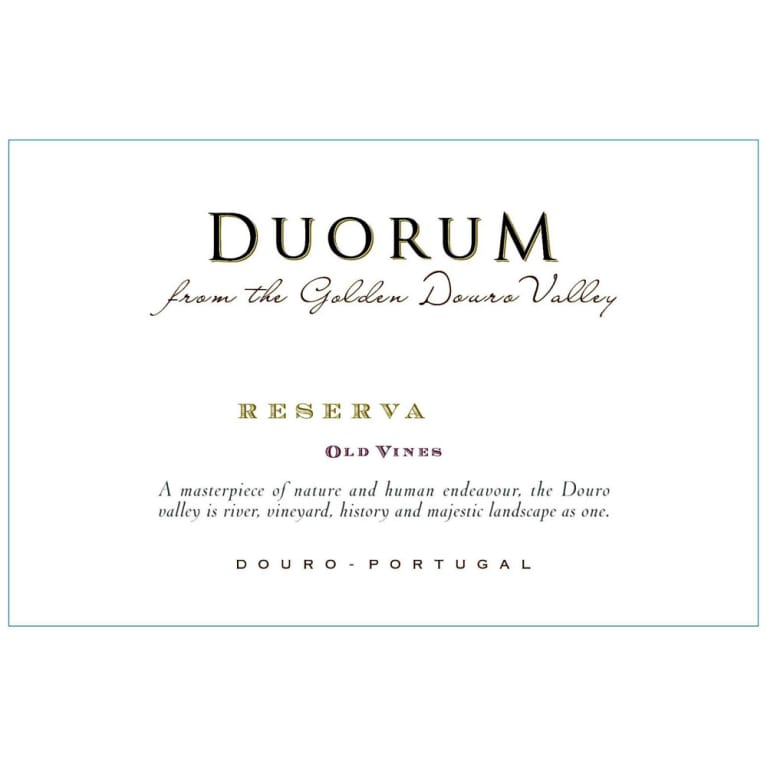 Duorum Old Vines Reserva 2009
Winemaker Notes
Deep red color with violet tones. Intense aroma dominated by very ripe black fruits, blackberries and cassis, also showing aromas of violet and exotic wood. Aromas of spices result from elevage in the barrels. All these aspects contribute to a great aromatic complexity that will increase with time. Full bodied, well balanced acidity with firm and ripe tannins. These characteristics together make it a full bodied and powerful wine with a long, persistent finish.
Blend: 45% Touriga Nacional, 45% Touriga Franca, 5% Tinta Roriz, and 5% Sousão.
Critical Acclaim
All Vintages
This is powerfully impressive, with its firm structure giving great depth to the rich black-cherry and plum fruits. Dense and tannic, it needs to age for at least four years.
The 2009 Reserva Old Vines is an old vines (some 100 years old) field blend of, says the winery, mostly Touriga Nacional and Touriga Franca, with 5% each of Tinta Roriz and Sousao, the lots separately aged in a mixture of new (70%) and old French oak for 12–18 months. Of the oldies around this age this issue, this is one of the ones that has aged the best. It is gorgeously balanced, a related issue no doubt, with impeccable precision and focus. Plus, it is relatively fresh, although it certainly shows some signs of maturity. It is still tightly wound and a little tight on the finish, but it is far more easily drinkable with an extra decade in the bottle since I first saw it. The complex overlay only improves it, while the mid-palate finesse is admirable. This should continue aging well throughout most of the decade, maybe more. It's very nice now, a classic table wine.
This has a distinctive cedary aroma, with flavors to match, as well as raspberry cream, dark plum, currant and kirsch. Medium-grained tannins linger on the finish, with snappy flavors of red licorice and paprika. Drink now through 2018.
Generously textured, this ample Douro red has honeyed blue fruit to balance its schist-black tannins. Oak plays a major role in the flavors for now, while an apple-skin edge adds freshness that suggests the wine will age well. Winebow, NY
View More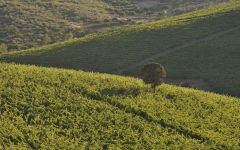 The name Duorum, which is Latin for "from two," captures the spirit of this renowned Portguese winery. The perfect union of unparalleled talent and unique terroir, Duorum is widely recognized as a gold standard for Portuguese wines. With over three generations of history between their families, internationally acclaimed oenologists João Portugal Ramos and José Soares Franco both graduated from El Instituto Superior de Agronomia (Higher Institute of Agronomy) in 1977.
In the thirty years that followed, João and José have left an indelible mark on the industry, both domestically and internationally. Seeking to combine their superior skills and passion for winemaking, João Portugal Ramos and José Maria Soares Franco founded Duorum in 2007. By combining the best qualities of the Douro & Alentejo, two of Portugal's most celebrated wine regions, Duorum has consistently produced wines of exceptional style and quality.
The home of Port—perhaps the most internationally acclaimed beverage—the Douro region of Portugal is one of the world's oldest delimited wine regions, established in 1756. The vineyards of the Douro, set on the slopes surrounding the Douro River (known as the Duero in Spain), are incredibly steep, necessitating the use of terracing and thus, manual vineyard management as well as harvesting. The Douro's best sites, rare outcroppings of Cambrian schist, are reserved for vineyards that yield high quality Port.
While more than 100 indigenous varieties are approved for wine production in the Douro, there are five primary grapes that make up most Port and the region's excellent, though less known, red table wines. Touriga Nacional is the finest of these, prized for its deep color, tannins and floral aromatics. Tinta Roriz (Spain's Tempranillo) adds bright acidity and red fruit flavors. Touriga Franca shows great persistence of fruit and Tinta Barroca helps round out the blend with its supple texture. Tinta Cão, a fine but low-yielding variety, is now rarely planted but still highly valued for its ability to produce excellent, complex wines.
White wines, generally crisp, mineral-driven blends of Arinto, Viosinho, Gouveio, Malvasia Fina and an assortment of other rare but local varieties, are produced in small quantities but worth noting.
With hot summers and cool, wet winters, the Duoro has a maritime climate.
With hundreds of red grape varieties to choose from, winemakers have the freedom to create a virtually endless assortment of blended red wines. In many European regions, strict laws are in place determining the set of varieties that may be used, but in the New World, experimentation is permitted and encouraged resulting in a wide variety of red wine styles. Blending can be utilized to enhance balance or create complexity, lending different layers of flavors and aromas. For example, a red wine blend variety that creates a fruity and full-bodied wine would do well combined with one that is naturally high in acidity and tannins. Sometimes small amounts of a particular variety are added to boost color or aromatics. Blending can take place before or after fermentation, with the latter, more popular option giving more control to the winemaker over the final qualities of the wine.
How to Serve Red Wine
A common piece of advice is to serve red wine at "room temperature," but this suggestion is imprecise. After all, room temperature in January is likely to be quite different than in August, even considering the possible effect of central heating and air conditioning systems. The proper temperature to aim for is 55° F to 60° F for lighter-bodied reds and 60° F to 65° F for fuller-bodied wines. How much does this matter?
How Long Does Red Wine Last?
Once opened and re-corked, a bottle stored in a cool, dark environment (like your fridge) will stay fresh and nicely drinkable for a day or two. There are products available that can extend that period by a couple of days. As for unopened bottles, optimal storage means keeping them on their sides in a moderately humid environment at about 57° F. Red wines stored in this manner will stay good – and possibly improve – for anywhere from one year to multiple decades. Assessing how long to hold on to a bottle is a complicated science. If you are planning long-term storage of your reds, seek the advice of a wine professional.
HNYDUORSO09C_2009
Item#
165612