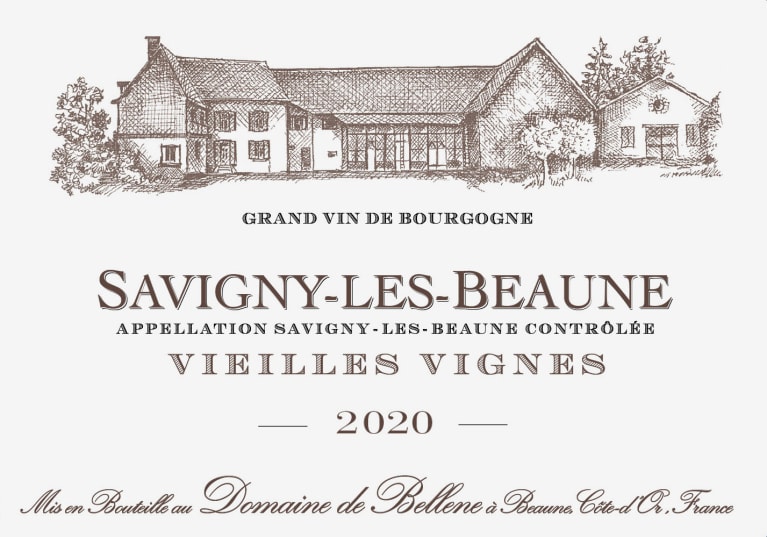 Domaine de Bellene Savigny-les-Beaune Vieilles Vignes 2020
Winemaker Notes
This cuvée is a blend of three parcels located very close to the Savigny-lès-Beaune Chardonnay parcels. All three vineyards are more than 60 years old and were converted to organic viticulture when they were acquired by the Domaine in 2005 and 2006. The wines are round and fruity, with soft tannins and a mix of red fruit flavors.
The new domaine was born in 2005, when some of the growers Nicolas Potel had been working with decided to stop their own production and proposed that he take over their vineyards. Nicolas saw this as the ideal opportunity to realize his longheld desire to control the entire production chain, from vineyard to market, in order to ensure the highest level of authenticity and quality. In 2006, Nicolas acquired the Domaine, located on Faubourg Saint Nicolas in Beaune. Originally a Cistercian abbey built in the 16th century, the cellars and buildings are being renovated according to very strict environmental standards. Nicolas takes environmental responsibility very seriously and it is being integrated into all aspects of the estate: buildings, vineyards, cellar work, energy conservation and generation, and packaging materials. With a winemaking facility secured, it was time to equip it with all the tools needed to produce pure, expressive wines that respect the innate quality of the fruit: temperature-controlled, stainless steel tanks for fermentation; a gentle destemming machine; a vibrating sorting table; a pneumatic horizontal press for the reds and a stainless steel vertical basket press for the whites — all in a gravity-flow arrangement that eliminates the need for harsh pumping. The first harvest at the domaine was in 2007, which at that time comprised 13.85 hectares (34.2 acres) of vineyards from Santenay to Côtes de Nuits-Villages. In 2009, the Domaine acquired a small estate that had 4.5 hectares of beautiful vineyards in Nuits-Saint-Georges and Vosne-Romanée. From the beginning, the Domaine vineyards were farmed according to organic principals, to preserve the unique soil structure and microbial life of each parcel. In 2009, they began to use draft horses to work certain vineyards, in order to have a gentler footprint and to reduce erosion and soil compaction. The Domaine now has two draft horses of their own, named Quezy D'Beauvais and Romeo du Moulin. In 2010, three more parcels were acquired in Meursault Premier Cru, Beaune Villages and the excellent Beaune Premier Cru "Les Bressandes." This year also saw the beginning of some vineyard renewal work. A few of the oldest parcels were cleared and planted with cover crops to restore the soil before being replanted (the cover crops also provided natural forage for the draft horses!). After four years of work to convert all of the vineyards to organic viticulture, the Domaine received certification in 2011. But, after the 2013 harvest, they voluntarily gave up this certification because of the leafhopper infestation. The only approved organic insecticide is very effective but not at all selective — it kills everything. During the 2013 harvest, they saw that the fruit was coming in without the desirable insect life (bees, ladybugs, earwigs). So they decided to switch to a synthetic insecticide that is highly selective and protects the good bugs, including the very important pollinators. Another 1.5 hectares of vineyards were added in 2014, in Auxey-Duresses, Monthélie and Aloxe-Corton. These parcels are being revitalized to restore soil health, replace dead or diseased vines with the Domaine's own massal selections, and to establish a new, higher trellis system that will encourage better foilage for healthier vines and higher fruit quality. Domaine de Bellene now owns 60 acres of vineyards throughout the Côte d'Or, from Santenay in the south, to Vosne- Romanée in the north. The focus is on vieilles vignes (old vines – 40 years or older) in distinctive terroirs. Newly acquired parcels of very old vines are being renewed and, in some cases, replanted by sélection massale — no clones are used. Nicolas Potel's goal at Domaine de Bellene is to produce pure, characterful wines that are clear expressions of their classic Burgundy terroirs. And he wants to do this in a way that works with nature as much as possible, with minimal impact on the land and the environment.
Savigny-lès-Beaune is a small village near Beaune that produces delightful red and white wines under its own appellation name. Cut by a river, the vineyards on its southern side have sandy soils that result in charming, floral reds. Premiers Crus vineyards on this side include Les Peuillets, Les Narbantons, Les Rouvrettes and Les Marconnets.
On Savigny's northern side, bordering Pernand-Vergelles, vineyards are planted on rocky soils and produce juicy and spicy Pinot Noir. The village's best whites, all made of Chardonnay, are full on the palate and abound in texture, complexity and freshness.
Thin-skinned, finicky and temperamental, Pinot Noir is also one of the most rewarding grapes to grow and remains a labor of love for some of the greatest vignerons in Burgundy. Fairly adaptable but highly reflective of the environment in which it is grown, Pinot Noir prefers a cool climate and requires low yields to achieve high quality. Outside of France, outstanding examples come from in Oregon, California and throughout specific locations in wine-producing world. Somm Secret—André Tchelistcheff, California's most influential post-Prohibition winemaker decidedly stayed away from the grape, claiming "God made Cabernet. The Devil made Pinot Noir."
CHMRDB7001120_2020
Item#
1158917