Domaine Antoine Arena Vin de France Bianco Gentile 2016
Winemaker Notes
Bianco Gentile, an ancient Corsican varietal, captures the essence of the island, astounding aromas of wildflowers and exotic fruit, and a vivid palate of white peach, lime zest, and minerals.
Blend: 100% Bianco Gentile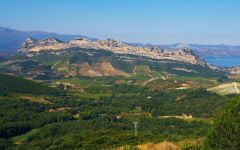 Antoine Arena, like most Corsicans of his generation, grew up in a family that earned a modest living working the land on an island largely unknown to the outside world. To survive there, Antoine knew he would need to show the world outside of Corsica what Patrimonio wine was capable of. And so his mission began to make the best his land could make and to spread the word. He started identifying the best parcels and vinifiying them separately, worked the vines organically and vinified without added sulfur. Antoine and his wife Marie worked tirelessly to put Patrimonio on the map, and with quite a success. They brought fame and respect to their appellation, recognized nearly unanimously as being the best there is on the island.
A small category representing the wines that either fall outside of appellation lines or don't subscribe to the law and traditions set forth by the French government within certain classified appellations, "Vin De France" is a catch-all that includes some of the most basic French wines as well as those of superior quality. The category includes large production, value-driven wines. It also includes some that were made with a great deal of creativity, diligence and talent by those who desire to make wine outside of governmental restrictions. These used to be called Vin de Table (table wine) but were renamed to compete with other European countries' wines of similar quality.
There are hundreds of white grape varieties grown throughout the world. Some are indigenous specialties capable of producing excellent single varietal wines. Each has its own distinct viticultural characteristics, as well as aroma and flavor profiles.
IPJPI_KL4942_2016
Item#
538861