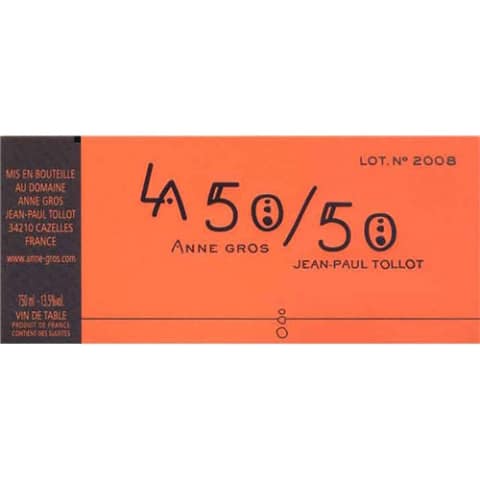 Domaine Anne Gros et Jean-Paul Tollot La 50/50 2012
Winemaker Notes
Winemaker Anne Gros likes to call this silky yet structured, concentrated red a "true" table wine—a bottle that encourages one glass to follow another during the course of a leisurely homemade meal.
Her cooler, north-facing vineyard (with a blend of younger and older vines) delivers a southern wine of incredible finesse and spirit. Suggestions of summer garrigue, black pepper, juicy cherries and plums are rich and endlessly pleasing on the nose and palate. We're reminded of an earthy, spicy Savigny Pinot Noir in its aromas, and a richly constructed, bold Rhône blend on the palate—and you can taste the sultry Minervois sun in every sip.
Blend: Carignan, Cinsault and Grenache
Anne Gros and Jean Paul Tollot, two winegrowers in Burgundy for over 20 years, have combined their expertise to serve the fine terroirs in Cazelles, in the Minervois !!! Love at first sight ?... Absolutely ! Reflection ?... Of course !
We chose Cazelles for the diversity of its soil, made of limestone, clay and sandstone, for the discovery of 4 main cepages (Carignan, Grenache, Syrah and Cinsault), for the quality and the wide age range of its vines, the privileged environment at the foot of the Black Mountain, its altitude of 220 metres (identical to Vosne- Romanée).
A building was created to grow, receive, make and care for these fine terroir wines. It has been designed with great attention to detail, respecting the energies, the wines and the people... A beautiful architectural structure made of simple but noble materials...terracotta, wood, stainless steel... Roundness is eveywhere... the road, the hills, the tanks, the barrels... the wines.
A sunny land braced by the influence of the Mediterranean Sea, the South of France extends from the French Riviera in the East to the rugged and mountainous Spanish border in the West. This expansive and stunning region remains the source of France's finest rosé and fortified wines, while the red and white wines continue to gain respect.
Provence, located farthest east, is revered for dry, elegant and quenching rosé wines, which make up the vast majority of the region's production. These are typically blends of Mourvèdre, Grenache, Cinsault, Tibouren and other varieties.
Moving west from the Rhône Valley, spanning the Mediterranean coast to the Pyrenees mountains of Roussillon, Languedoc's terrain is generally flat coastal plains. Virtually every style of wine is made in Languedoc; most dry wines are blends with varietal choice strongly influenced by the neighboring Rhône Valley.
Bordered by the rugged eastern edge of the Pyrenees Mountains and intense sunshine, Roussillon is largely defined by Spanish influence. The arid, exposed, steep and uneven valleys of the Pyrénées-Orientales zone guarantee that grape yields are low and berries are small and concentrated. While historically recognized for the vins doux naturels of Rivesaltes, Banyuls and Maury, the region's dry reds are beginning to achieve the notoriety the deserve.
A catchall term for the area surrounding the Languedoc and Roussillon, Pays d'Oc is the most important IGP (Indication Géographique Protégée) in France, producing nearly all of France's wine under the IGP designation.
With hundreds of red grape varieties to choose from, winemakers have the freedom to create a virtually endless assortment of blended red wines. In many European regions, strict laws are in place determining the set of varieties that may be used, but in the New World, experimentation is permitted and encouraged resulting in a wide variety of red wine styles. Blending can be utilized to enhance balance or create complexity, lending different layers of flavors and aromas. For example, a red wine blend variety that creates a fruity and full-bodied wine would do well combined with one that is naturally high in acidity and tannins. Sometimes small amounts of a particular variety are added to boost color or aromatics. Blending can take place before or after fermentation, with the latter, more popular option giving more control to the winemaker over the final qualities of the wine.
How to Serve Red Wine
A common piece of advice is to serve red wine at "room temperature," but this suggestion is imprecise. After all, room temperature in January is likely to be quite different than in August, even considering the possible effect of central heating and air conditioning systems. The proper temperature to aim for is 55° F to 60° F for lighter-bodied reds and 60° F to 65° F for fuller-bodied wines.
How Long Does Red Wine Last?
Once opened and re-corked, a bottle stored in a cool, dark environment (like your fridge) will stay fresh and nicely drinkable for a day or two. There are products available that can extend that period by a couple of days. As for unopened bottles, optimal storage means keeping them on their sides in a moderately humid environment at about 57° F. Red wines stored in this manner will stay good – and possibly improve – for anywhere from one year to multiple decades. Assessing how long to hold on to a bottle is a complicated science. If you are planning long-term storage of your reds, seek the advice of a wine professional.
NBIGT505012_2012
Item#
149176