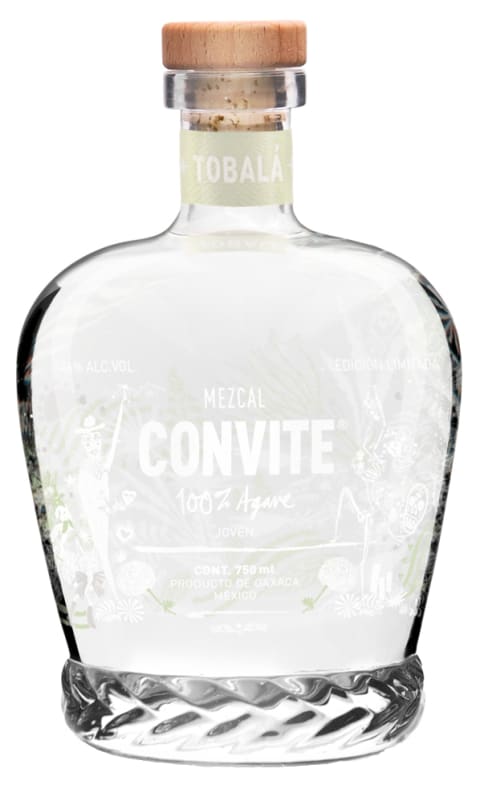 Convite Tobala Mezcal
Ships Fri, Nov 22
Limit
0
bottles
per customer
Distiller Notes
Extremely delicate, smooth and floral, with the elegance of the velvety notes of cinnamon and cocoa.
Elaborated in the traditional way from the finest capon agaves. Naturally fermented with spring water.
Proof: 92
Convite is proud to be a 100% Oaxacan industry, heirs of knowledge transmitted over more than five generations in the distillation of agave and in the bottling of local beverages.
We believe that a good mezcal is a real elixir for the most discerning palates. Therefore, we are committed to protecting our traditions, while offering an artisanal drink of the highest quality. Convite aspires to be a point of reference in our community, by supporting environmental sustainability, fair trade and community development; that is why we also carry out all our value chain. In every bottle we produce, you can find the presence of fragments of ancient traditions, the land where the plant was grown and the knowledge inherited generation after generation.
Mezcal Convite is a high quality artisanal mezcal. The thorough selection of wild agaves and the careful distillation adopted from ancient methods give our mezcals their distinctive flavors and luxurious tastes. Made 100% in the traditional way, without any accelerators or added flavors, using the highest quality ingredients. The production is made in small, exclusive lots, with a superb flavor. A true elixir of Mexico for the world! These attributes make it 100% natural, high quality, with an exquisite flavor, special and unique in the world.
Mezcal Joven or "young" is bottled within two months of distillation without barrel aging and will appear clear, like a Vodka or Gin. Longer barrel aging, with the principal aim to soften and round a spirit's flavor profile, is often most prized by connoisseurs. However, many die-hard Mezcal enthusiasts insist that oak takes away from the purity of the agave flavors—ranging from earthy and smoky to sweet and floral, often in the same Mezcal—and that Mezcal Joven is the best expression.