Chateau Pontet-Canet (Futures Pre-Sale) 2021
Out of Stock

(was $99.97)
Pre-sale:
Ships after
10/04/2023
Winemaker Notes
These cooler, richer soils are better suited to Merlot and produce wines that are more structured and fleshy in texture. To establish a link with the viticultural past, four plots located on the edge of the outcrop have been planted with the Petit Verdot variety, which brings spicy aromas to the Pontet-Canet "grand vin".
Critical Acclaim
All Vintages
The dense color and the perfumed aromas set the scene for a rich wine full of fruit. The balance is already there, complex with structure and dense juicy fruits. The wine is impressive.
Barrel Sample: 97-99
Plenty of blackberry and blueberry with wet earth and crushed stone. Some spice, tobacco and lead pencil, too. It's full-bodied with layered tannins and brightness. Fine and chewy at the end.
Barrel Sample: 95-96
The 2021 is the most classically Pauillac Pontet-Canet I have tasted in modern times. Medium in body, with striking aromatic presence, the 2021 screams with character. Grilled herbs, incense, leather, lavender and plum open with a bit of coaxing, all framed by beams of tannin and bright, salivating acids that give the wine shape and real sense of direction. There's a bit more Petit Verdot in this year's blend, and that comes through in the wine's intensely savory profile. Aging is 50% in new wood, 35% in amphora and 15% in one year-old barrels. The 2021 was impressive all three times I tasted it. –Antonio Galloni
Barrel Sample: 93-95
Gorgeous fragrance on the nose, so perfumed and floral - really vibrant - you can smell the Cabernet and the Petit Verdot on the nose. Juiciness straight away from a burst of high acidity focussed on blackcurrant and black cherry with both a fragrance, spice and minerality following. This really hits you square on - it's not opulent but it's so fully flavoured, forward and upfront. Tannins are fine-grained but plentiful, they hold the structure and give the frame while the creaminess and freshness gives an expansive aspect to the palate. There's refinement and an aerial quality here despite the clear Pauillac power. The Cabernet fruit is in full shine mode, giving a eucalyptus, perfumed berry and black pepper touch. Structured and supple with grape and terroir characteristics. If you love Pontet, and classic Pauillac claret, this is an impressive reference point. Skilled winemaking from technical director Mathieu Bessonet. 4% Cabernet Franc completes the blend.
Barrel Sample: 95
The 2021 Château Pontet-Canet is rock solid in the vintage and certainly shows the vibrant, vivid style of the estate today with its bright, exotic blue fruits, violets, and graphite-like aromatics. Medium to full-bodied on the palate, I love its mid-palate density, it has notable freshness and purity, some chalky tannins, and outstanding length. The 2021 checks in as 58% Cabernet Sauvignon, 32% Merlot, 6% petit Verdot, and the rest Cabernet Franc, and the aging consists of 50% in new barrels, 35% in concrete amphora, and the rest in second-fill barrels.
Barrel Sample: 93-95
Offering up wild, exotic aromas of blackberries, cloves and Indian spices mingled with notions of rose petal, bruised orchard fruit and cherry pit that evolve rapidly in the glass, the 2021 Pontet-Canet is medium to full-bodied, ample and fleshy, with a layered mid-palate and refined tannins that assert themselves on the firm, saline finish. Always one of the Médoc's most singular, idiosyncratic wines, it will be interesting to see how it performs in bottle.
Barrel Sample: 91-93
View More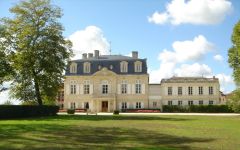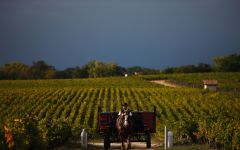 Jean Francois Pontet, Royal Master of the Horse in the early 18th Century, bought and consolidated several plots of land located northwest of Pauillac. Several years later, in 1750, his descendants bought neighboring vineyards in an area named "Canet", thus creating one of the largest estates in the entire Medoc. Chateau Pontet-Canet's topography and soil predestined it to produce great wine.
In 1865, the noted wine shipper Hermann Cruse acquired the chateau and its 120 hectares of vones. The Cruse dynasty provided the financial means to make one of the greatest wines in the Medoc. In 1975, Guy Tesseron, solidly implanted in the Cognac region, and owner of Lafon Rochet in St-Estephe, purchsed Pontet-Canet.
The family's avowed ambition is to pass on the history of Chateau Pontet-Canet and secure its future. Today, it is Guy Tesseron's descendants who own the estate today: Alfred and his nieces Mélanie and Philippine, daughters of his late brother Gérard. Together, they have the same outlook. Alfred shares his vision of the estate with Mélanie, passing on to her its traditions, his outlook on vinegrowing and his passion for wine.
In 2004, the year of the first biodynamic trial which took place on 14 hectares, the wines were radiant, tighter and brighter. Alfred urged Jean-Michel to go further. The estate was fully converted to biodynamic agriculture. This decision became a commitment and a challenge, but also a first for a Médoc Classified Growth.
Since then, with each vintage comes new knowledge, furthering the understanding of the terroir in a profound way. The vine's resistance to disease is better known today, the understanding of how different parcels behave has improved, always in keeping with biodynamic principles. It requires sincerity, pragmatism and transparency: in a nutshell, absolute dedication.
The wines of Chateau Pontet-Canet obtained organic certification from Ecocert and biodynamic certification from Biodyvin in 2010 and from Demeter in 2014.
A shared state of mind and a particular sensitivity are the key factors which have propelled Chateau Pontet-Canet to the summit of Bordeaux wines in recent years. They are the expression of the Tesseron family's quiet determination to ensure continuity over the long term.
FCA1017774_2021
Item#
1017774