Chateau Lafite Rothschild (faded labels) 1990
Out of Stock

(was $2,069.00)
Winemaker Notes
Very deep color. A complex bouquet with blackcurrant, blackberry, smoke, leather, and spicy aromas. There is just a hint of oak. The attack is direct and elegant, with lots of tight, refined tannins and ripe fruit. Silky texture, and a very long finish. This wine may be kept for many years.
Blend: 57% Cabernet Sauvignon, 30% Merlot, 13% Cabernet Franc
Critical Acclaim
All Vintages
Interestingly, a bottle of 1990 Lafite Rothschild I pulled from my cellar for a video blog on my web site was still buttoned down, tight, and even with extended decanting was not showing as much as I would have hoped. However, a bottle tasted, of all places, in Seoul, Korea in February, was only a few points short of perfection. That amazing performance motivated me to pull another bottle out of my cellar and follow it over the course of two days. Sure enough, by the second day the wine was roaring from the glass. The 1990 Lafite has turned out far better than my early assessment. While it still possesses some firmness, and performs like a late adolescent in terms of its evolution, it boasts gorgeous aromas of cedar, tobacco leaf, cassis, and lead pencil shavings. The explosive aromas are followed by a fleshy, full-bodied wine...
Very serious fruit, with juicy berry, tobacco and cedar character. Slightly more body than the 1989, but they are very close in character. I would give this a little more time.
View More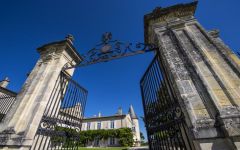 Chateau Lafite Rothschild is one of only four classified first growths and thus the designation as 1st er Cru. The vintage rankings of the Universal Paris Exposition in 1855 officially gave Lafite the rating as "Leader among fine wines." While the first known reference to Lafite dates to 1234 with a certain Gombaud de Lafite, abbot of the Vertheuil Monastery north of Pauillac, Lafite's mention as a medieval fief dates to the 14th century. The name Lafite comes from the Gascon language term "la hite", which means "hillock". There were probably already vineyards on the property at the time when the Ségur family organised the vineyard in the 17th century, and Lafite began to earn its reputation as a great winemaking estate. Jacques de Ségur was credited with the planting of the Lafite vineyard in the 1670s and in the early 1680s. The estate achieved wide popularity in the 1750s when it became the favorite wine of King Louis XV. Thomas Jefferson was also a steadfast customer and even visited the estate. After the 1973-1976 mini-crisis that hit Bordeaux, Baron Eric's management of the estate made strides forward with a search for excellence and the gradual addition of a new technical team. In 1985 Baron Eric began a tradition of inviting fine-arts photographers to photograph Chateau Lafite. Today, his daughter Saskia de Rothschild represents the 6th generation of the family at the head of the winemaking properties.