Chateau De Laubade VSOP Armagnac
Out of Stock

(was $52.99)
Distiller Notes
Ripe fruits, vanilla and plum, soft and delicate notes. To be savored as a digestive or as an aperitif. Great with a honey sweet curd cheese, wild strawberries with cane sugar, or paired with a light coffee.
Proof: 80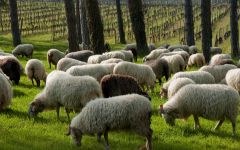 Château de Laubade was built in 1870 and is today the premier Armagnac property with 260 acres of single vineyard growing in the heart of the noblest area of the appellation: Bas Armagnac. The Lesgourgues family has been running the estate since 1974. Arnaud and Denis Lesgourgues, the third generation, have been actively involved since 1998 in a quest for excellence to make Château de Laubade an undisputed reference in the Armagnac category. Located in Sorbets d'Armagnac, the sloping vineyard is composed of 47% of Ugni Blanc, 30% of Baco 22A, 15% of Colombard and 8% of Folle Blanche. The vine cultivation is environment friendly and the agriculture is sustainable. Chateau de Laubade is now certified Terra Vitis and HEV Level 3. The single and continuous distillation is made on premise, in a custom tailored column still (Alambic). The wines, exclusively produced from the property's vineyard, are distilled grape varietal by grape varietal. 
The cellar Master carefully oversees and guarantees the finest maturation of the brandies, vintage by vintage, grape varietal by grape varietal. He is using 3.000 400-liter casks, exclusively made of Gascony oak (black oak) carefully selected in the surrounding forests. Laubade is the only Armagnac house having its own cooperage. Over the past 30 years, Château de Laubade has been regularly awarded with more than 120 medals in the most prestigious competitions. 
Cardinal Vital Du Four claimed that it "cures gout and cankers, heals wounds of the skin … renders men joyous, preserves youth and retards senility."
Armagnac is produced in the Gascony region of Southwest France and is among the earliest of spirits produced, prescribed over the last 700 years for a myriad of therapeutic benefits. Owing to its ancient heritage, the production method is much simpler than that of its cousin, Cognac, with just a single distillation through a column still prior to barrel aging. This yields a spirit that is generally more flavorful and fragrant than other Brandies.