Charbay R5 Lot 5 Firehouse Whiskey
Out of Stock

(was $66.99)
Distiller Notes
Now in its fifth release, Charbay's R5 Lot No. 5 is double-distilled from Bear Republic Brewery's award-winning Racer 5 IPA beer (7% ABV). Maser Distiller Marko chose this IPA for its upfront aromatic hops, great dose of bittering hops, high quality two-row barley, balanced and a smooth, clean finish... see if you can taste how each of these is revealed in the whiskey.
The Firehouse whiskey is made in honor of survivors of the Northern California fires. Charbay distillery pledges to donate $10,000 to Stand for Kindness to help these survivors restore their lives.
Proof: 99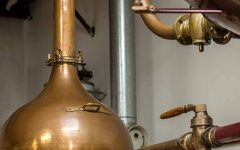 For 34 years, Charbay has been producing small releases of handcrafted spirits, wines, ports, aperitifs & liqueurs in Northern California.
Our family is committed to offering the finest spirits made in the true spirit of American creativity while grounded in 13 generations of old world European knowledge. Founder, Milorad (Miles) Karakasevic, traces his family winemaking & distilling heritage over 250 years to 1751 in former-Yugoslavia. After receiving both formal and classical apprenticeship training, Miles arrived in North America at the age of 21. Through the years, he and our family have created an American legacy of consistent quality... and consistent surprises. 
No other family in the United States hand produces the scope of handcrafted wines & spirits than that of Charbay. Our family promises to carry on the tradition of the finest quality of artisan wines & spirits, always pushing the creative edge and accenting the ingredients we work with. We hope you enjoy the Charbay story and will stay in touch for years to come.
What Whiskey will not cure, there is no cure for.
Coming in a multitude of styles depending on its origin, Whisk(e)y's flavors range across the board from the sweet, caramel and vanilla-dominated American Bourbons to the briny, peat-heavy Islay Single Malts from Scotland. Though production methods differ widely, all Whiskeys are made by distilling beer made from some type of grain, such as barley, corn, wheat or rye. After the distillation process is complete, the new, clear spirit is transferred to wooden casks where it matures, a process that can take up to thirty years or more.