Charbay Doubled & Twisted Lot 1 Whiskey
Out of Stock

(was $49.97)
Distiller Notes
Charbay named it "Doubled & Twisted" from an old distilling term that refers to 'the best stuff' that runs out of the Still, as a stream, doubling and twisting on itself. This whiskey offers warm aromas of baking spices (nutmeg, clove, cinnamon, allspice) and oak-smoked malted barley. French and American Oak impart flavors from smoky, toasted vanilla to dark roasted coffee.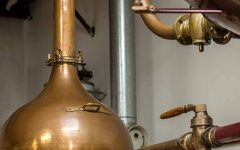 For 34 years, Charbay has been producing small releases of handcrafted spirits, wines, ports, aperitifs & liqueurs in Northern California.
Our family is committed to offering the finest spirits made in the true spirit of American creativity while grounded in 13 generations of old world European knowledge. Founder, Milorad (Miles) Karakasevic, traces his family winemaking & distilling heritage over 250 years to 1751 in former-Yugoslavia. After receiving both formal and classical apprenticeship training, Miles arrived in North America at the age of 21. Through the years, he and our family have created an American legacy of consistent quality... and consistent surprises. 
No other family in the United States hand produces the scope of handcrafted wines & spirits than that of Charbay. Our family promises to carry on the tradition of the finest quality of artisan wines & spirits, always pushing the creative edge and accenting the ingredients we work with. We hope you enjoy the Charbay story and will stay in touch for years to come.