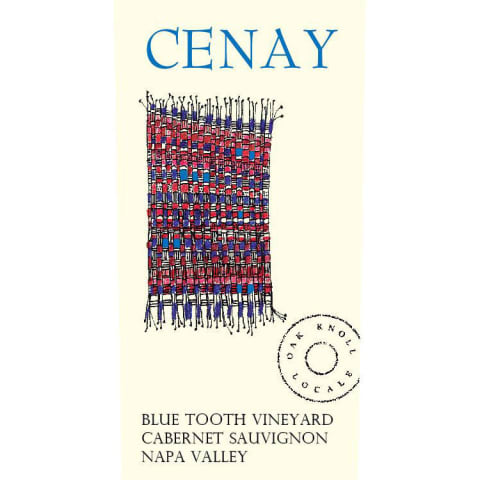 Cenay Blue Tooth Vineyard Cabernet Sauvignon 2015
Out of Stock

(was $33.99)
Winemaker Notes
Blue Tooth vineyard was originally planted in the 1920's and is positioned on a dry ancient riverbed of rock, sand and gravel. The vineyard site within Napa Valley is positioned where the cool evening bay breeze prolongs the time the fruit is on the vine, building its complex flavors. It is these qualities of the vineyard site within Napa Valley that contribute to its mineral qualities and aromas of blueberry.
"I grew up in the Barossa Valley, Australia's premiere wine region, and knew from an early age that I wanted to work in the wine industry. I received my degree from Roseworthy College, South Australia, where I studied viticulture and oenology, with further studies at the University of California, Davis.
I consider myself fortunate to have worked with some of the great pioneering wineries of Australia, New Zealand and the United States. I began my career working in the vineyards and winery of B. Seppelts and Sons, one of the oldest wineries in Australia. I was introduced to the Napa Valley as a harvest intern at Stags Leap Winery during the great vintage of 1987. At Chappellet Winery, one of the first post-Prohibition wineries, I worked as Assistant Winemaker from 1989 to 1997.
In 1991, while I was learning the art of making mountainside wines at Chappellet, I also began making my own wine under the Ramspeck label. In 1997 I left Chappellet to devote myself full time to Rowland Cellars. At the same time, I began consulting for William Hill Winery in Central Otago, New Zealand. The challenges of southern New Zealand intrigued me, and for ten years I made a New Zealand Pinot Noir under the Rowland label, before ultimately deciding to concentrate my winemaking in California.
My interest in making the best wine possible has led me to the invention of winemaking equipment, including a barrel stirrer that has been reproduced by many companies around the world. I've also consulted for a number of small private labels and vineyards. My current research is in the improvement of grape berry phenolic production and the prevention of berry dehydration."
-Gerry Rowland
"I grew up in Sacramento, a fourth generation Californian, but I have called the Napa Valley home for most of my life. I worked as an art and science educator for over twenty years, teaching in the Napa Valley and presenting at national conferences. I am also an illustrator, and have designed wine labels, menus, and posters for a variety of clients. From the very start of Rowland Cellars, I've been a true partner and "the other half" of our two-person enterprise. My support and input has been there during every phase of production. As a graphic artist, it was natural for me to design promotional and sales material. When we introduced Cenay in 1997, based on my family heritage, it was my pleasure to design the label. In 2009 I began to devote myself full time to our wine business. I now work with distributors on the road in other states, meet with sommeliers and restaurant owners, run tastings, and generally back up Gerry on the business side of Rowland Cellars. I love my work! And I love the collaborative spirit of our joint passion for making the best wine we can. When I'm not working, I enjoy hanging out with my family, performing in the Napa Valley Follies, and tasting Gerry's delicious recipes prepared in the Food and Wine Lab, aka our kitchen."
-Linda Rowland
In 1991, when I decided to make and market my own wine, we traced my family history for inspiration. We found that my ancestors had made wine with their family crest on the label as early as 1537 and sold it throughout Europe. So it was with a deep sense of pride and respect for the past that we revived the Ramspeck label. Our first bottling was 200 cases.
In 1996 we started the Rowland label, making wines from vineyards too small to bottle individually. All our red grapes came from a triangle bordered by Atlas Peak, Stags Leap and Coombsville, so we called it our Red Triangle, a play on the notorious hunting ground of the great white shark off the coast of northern California.
In 1997, we introduced the Cenay label, based on Linda's heritage. Her ancestors purveyed the accoutrements of the good life during Gold Rush days: fine cloth, premium cigars, and quality food and wine. Cenay continues that tradition, offering exceptional vineyard-designated wines of the finest quality.
We now produce 12,000 cases of wine annually, but despite this growth, we have been able to keep the business family run, with our staff consisting of myself, my wife Linda, and our three cats. We're very proud of this achievement, especially considering that we are competing against newer labels in the Napa Valley that have the backing of sports celebrities, Silicon Valley entrepreneurs and film makers.
The quality of our wines is ensured by control over every facet of the process, from vine management to winemaking techniques and products. Our story continues in every bottle of our wine, from one year to the next, as we continue to learn and to raise the bar for excellence.
One of the most prestigious wines of the world capable of great power and grace, Napa Valley Cabernet is a leading force in the world of fine, famous, collectible red wine. Today the Napa Valley and Cabernet Sauvignon are so intrinsically linked that it is difficult to discuss one without the other. But it wasn't until the 1970s that this marriage came to light; sudden international recognition rained upon Napa with the victory of the Stag's Leap Wine Cellars 1973 Cabernet Sauvignon in the 1976 Judgement of Paris.
Cabernet Sauvignon undoubtedly dominates Napa Valley today, covering half of the land under vine, commanding the highest prices per ton and earning the most critical acclaim. Cabernet Sauvignon's structure, acidity, capacity to thrive in multiple environs and ability to express nuances of vintage make it perfect for Napa Valley where incredible soil and geographical diversity are found and the climate is perfect for grape growing. Within the Napa Valley lie many smaller sub-AVAs that express specific characteristics based on situation, slope and soil—as a perfect example, Rutherford's famous dust or Stags Leap District's tart cherry flavors.
VTOCNYCSN15_2015
Item#
312721