Carmel Chenin Blanc 1999
Out of Stock

(was $10.99)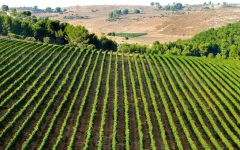 Carmel Winery is the historic winery of Israel. It was founded in 1882 by Baron Edmond de Rothschild, owner of Château Lafite in Pauillac, Bordeaux. The story of Carmel represents the story of Israel, and the recent developments of Carmel's wine, symbolizes the revolution of Israeli wine in recent years.
Carmel Winery has 3,472 acres of vineyards, which cover the land of Israel from the Upper Galilee in the north, to the Negev in the south. Carmel's winemakers can therefore choose from vineyards with different terroirs from all the wine regions in Israel. Carmel has a particularly strong vineyard presence in the cooler climate of the Upper Galilee, from where many of the leading wines are sourced.
Carmel's Zichron Ya'acov Wine Cellars, built in 1892, is the largest winery in Israel. On the premises is a modern, state-of-the-art facility making small quantities of quality wines from Carmel's finest vineyards. The most advanced, modern winemaking technology blends in with the historic 120 year old cellars. The name of the winery is in memory of Edmond de Rothschild's father, Baron James Jacob (Ya'acov) de Rothschild, who purchased the famous Bordeaux winery, Château Lafite, for the Rothschild family. Zichron Ya'acov is a charming town which still has an atmosphere of pre-state Israel. It is situated south of Haifa on the southern slopes of Mount Carmel, overlooking the Mediterranean Sea.
NDV230134_1999
Item#
25108