Product Details
---
Varietal
---
Region
---
Producer
---
Size
750ML
---
ABV
40%
---
Distiller Notes
Its appearance is bright, transparent dark mahogany with copper glints. 
On the nose it is clean, elegant and well-rounded with hints of the Sherry which seasoned the barrels.
On the palate it is beautifully balanced, warming and smooth while it has a very long finish where all the subtle nuances come together leaving a lasting impression of personality with hints of raisin and prune.
Professional Ratings
Wine Enthusiast

No wallflower, this one. The intensity of the bouquet starts right with the pour as waves of prunes and raisins rise from the glass; air contact stirs deeper aromas, most notably orange rind, peppermint and roasted nuts. This rich, heavyweight brandy features layers of flavor, including cocoa, toffee, caramel, cream Sherry and oaky vanilla. Finishes as large and robust as it started. Range: 90-95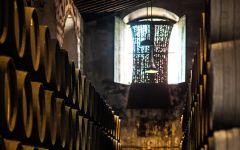 Founded in 1781 by Don Juan Sánchez de la Torre, the Bodega Sanchez Romate is run by five families who bought the company in 1950. It's one of the few remaining wineries which is still in the hands of local owners in Jerez de la Frontera Spain. 
In 1887 the fourth generation of Sánchez Romate decided to create an exclusive brandy for the family and their closest circle of friends. This was the beginning of Cardenal Mendoza, now one of the most popular Brandy de Jerez both in Spain and worldwide.
Taking its name from the Dutch term, brandewijn, for burnt or cooked wine, in the broadest sense of the term, Brandy is any liquor made from the distillation of fruit wine. Though any kind of fruit may be used, wine grapes are the most common. Clear Brandy, commonly referred to as Eau de Vie, is unaged and bottled directly after distillation. Finer grape-based Brandies are often aged in oak barrels for anywhere from two years (VS) to six years (XO) or longer, gradually gaining color and complexity as they interact with the wood.