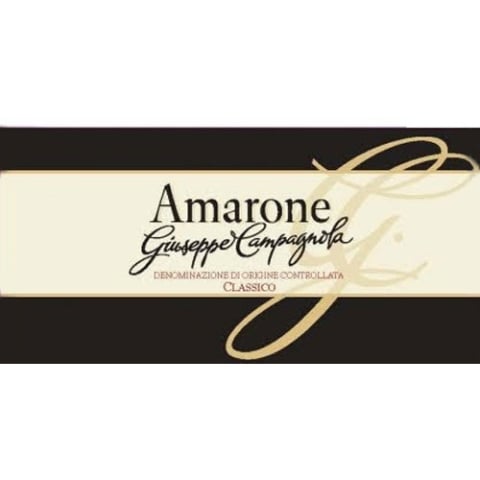 Campagnola Amarone 2011
Ships Wed, Jul 3
Limit
0
bottles
per customer
Winemaker Notes
Intense ruby red color with violet edge. Warm, spicy, powerful bouquet with intense aromas of cherry, bitter almond and vanilla. Full, rich, velvety flavor.
The enterprising spirit of Carlo and Caterina was inherited by Giuseppe, one of ten children, who together with his brothers in 1926 acquired the "Antica Osteria ai Portoni Borsari" in Verona where the wines made on the family farm were sold.
Luigi was determined even as a young boy to continue the family wine business. On coming of age, he initially took charge of wine deliveries in the area and bought the first truck: it was in this period that he came to know various clients and developed his "business spirit", in turn expanding clientele enjoying Campagnola wines.
In the 1970s, he had the intuition of flanking production of high quality wines with "good everyday wine" in response to the needs of a continually growing market. The company expanded even further, whereby its own local production was joined by provincial and regional wines with great success on the market, particularly in Europe and even further afield.
In 1979, young Giuseppe took his place in the company, joining his father and sisters, Antonella and Monica, in managing Giuseppe Campagnola SpA.
After rewarding initial experiences, Giuseppe took over business development on the Italian and International market, while his father Luigi personally followed up all production stages, especially the selection of the grapes in the vineyard and the vital, delicate drying stage involved in making prestigious Recioto and Amarone wines.
As of the early 1990s, the market increasingly moved towards high-end products: Campagnola, on the strength of its experience and production capacity, focused its efforts on the production of the great Valpolicella red wines inspired by excellence.
Today, the Campagnola company cares for vineyards, selects grapes and collaborates actively with more than 50 wine-growers in the most vocational vineyards around Marano di Valpolicella for a total of about 80 hectares. It also has 30 hectares in the Bardolino area, 25 hectares near Mortegliano in Friuli Venezia Giulia and collaborates with wine-growers in the Soave area with about 20 hectares.
This proudly brings the family company to the fifth generation. Luigi Campagnola handed down to his children and grandchildren with enthusiasm and constant dedication that special bond with the land, love for vineyards and wine, commitment and continued devotion to the art of wine-making, in the certainty that these features, upheld in more than 100 years of history, will continue to live on from generation to generation.
Producing every style of wine and with great success, the Veneto is one of the most multi-faceted wine regions of Italy.
Veneto's appellation called Valpolicella (meaning "valley of cellars" in Italian) is a series of north to south valleys and is the source of the region's best red wine with the same name. Valpolicella—the wine—is juicy, spicy, tart and packed full of red cherry flavors. Corvina makes up the backbone of the blend with Rondinella, Molinara, Croatina and others playing supporting roles. Amarone, a dry red, and Recioto, a sweet wine, follow the same blending patterns but are made from grapes left to dry for a few months before pressing. The drying process results in intense, full-bodied, heady and often, quite cerebral wines.
Soave, based on the indigenous Garganega grape, is the famous white here—made ultra popular in the 1970s at a time when quantity was more important than quality. Today one can find great values on whites from Soave, making it a perfect choice as an everyday sipper! But the more recent local, increased focus on low yields and high quality winemaking in the original Soave zone, now called Soave Classico, gives the real gems of the area. A fine Soave Classico will exhibit a round palate full of flavors such as ripe pear, yellow peach, melon or orange zest and have smoky and floral aromas and a sapid, fresh, mineral-driven finish.
Much of Italy's Pinot grigio hails from the Veneto, where the crisp and refreshing style is easy to maintain; the ultra-popular sparkling wine, Prosecco, comes from here as well.
With hundreds of red grape varieties to choose from, winemakers have the freedom to create a virtually endless assortment of blended wines. In many European regions, strict laws are in place determining the set of varieties that may be used, but in the New World, experimentation is permitted and encouraged. Blending can be utilized to enhance balance or create complexity, lending different layers of flavors and aromas. For example, a variety that creates a fruity and full-bodied wine would do well combined with one that is naturally high in acidity and tannins. Sometimes small amounts of a particular variety are added to boost color or aromatics. Blending can take place before or after fermentation, with the latter, more popular option giving more control to the winemaker over the final qualities of the wine.
WWH137828_2011
Item#
144733