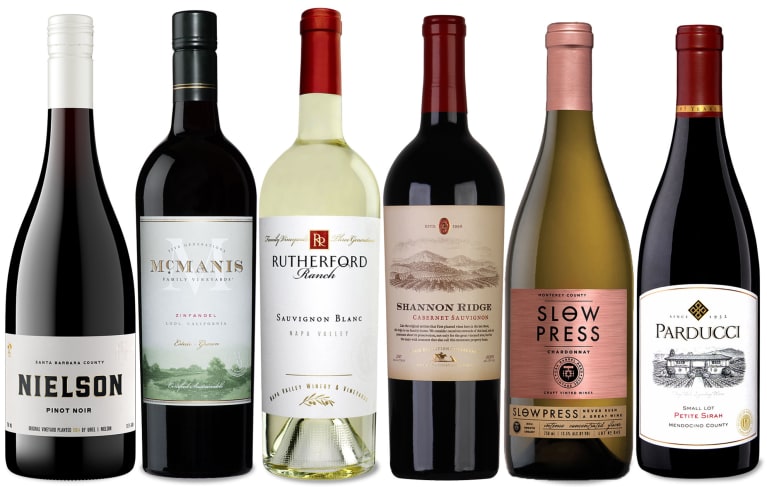 California Wine Tour Collection
Description
You may not be in California this holiday, but you can certainly dream about it! California Dreaming Big delivers six top varieties from the renowned wine regions of California. You'll taste the diversity of the state with six top varieties from renowned California wine regions.
Wine Gift Set Includes:
Lake County: Shannon Ridge High Elevation Cabernet Sauvignon
This Cabernet Sauvignon offers blackberry and dried cranberry characters with notes of pepper and allspice. The lengthy finish shows hints of cedar along with ripe fruit and toasted oak.
Monterey: Slow Press Chardonnay
Monterey County delivers a classic Chardonnay with a toasty finish. The Slow Press wine making process magnifies fruit aromas and delivers notes of fresh apples and pears. Slow Press Chardonnay is aged in oak barrels for 12 months which helps the wine develop a full bodied creamy mouthfeel.
Napa Valley: Rutherford Ranch Sauvignon Blanc
This Napa Valley Sauvignon Blanc often delivers bright and vibrant aromas of mango, fig, and fresh honeydew. Fresh flavors of grapefruit, kiwi and Meyer lemon with crisp acidity and a clean finish.
Santa Barbara: Nielson Santa Barbara Pinot Noir
This wine comes from the three major Pinot Noir growing regions within Santa Barbara County, each of which is influenced by unique soil types and proximity to the Pacific Ocean. This wine has an elegant bouquet of black cherry, tea leaf, a slight caramel note, and some lighter more lifted red fruit aromas. On the palate, the wine has a density and weight to it that gives a luxurious mouthfeel with more flavors of red fruit, earth, and a savory quality that demands another sip.
Lodi: McManis Family Vineyards Zinfandel
The McManis Family Vineyards Zinfandel is a dark purple wine, loaded with notes of ripe red currant, strawberry, caramelized sugar, and toasty oak. The savory red fruit on the palate leads to soft, supple tannins and a smooth finish.
Mendocino: Parducci Small Lot Petite Sirah
This Sirah is a Mendocino specialty, and Parducci was one of the first wineries to bottle this varietal. Dark ruby in color with aromas of cherry, blackberry, mint, and chocolate, this big red wine embodies spice, dark fruit flavors and supple tannins.
Printed insert that describes the featured wines
Due to the popularity of this gift, wines or vintages sometimes sell out. Should this happen, we will always substitute with wines of equal or greater value.
PDX106309FL_0
Item#
106309