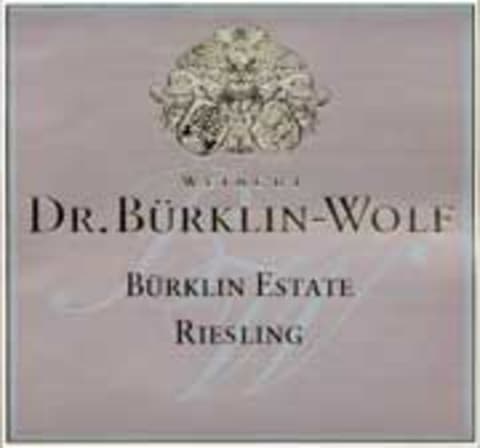 Burklin-Wolf Estate Riesling 2002
Ships Wed, Nov 20
Limit
0
bottles
per customer
Winemaker Notes
From its vineyards in Wachenheim, Forst, Deidesheim and Ruppertsberg, Dr. Bürklin-Wolf makes an unrivaled array of wines which afford the singular ability to produce dry Riesling of consistent style and quality. Benefiting from declassification of several of Bürklin's most prestigious sites, Bürklin Estate is a classic Pfalz Riesling with depth of flavor, aromatic spice and a soft, voluptuous finish.
Founded in Wachenheim in the late 1500's by Bernhard Burklin and expanded to current size and prominence by Dr. Albert Burklin in the late 1800's, Dr. Burklin-Wolf is the largest family-owned wine estate in Germany.
Holdings total 110 hectares (275 acres) in the Mittelhardt - the quality core of the world-renowned Pfalz region, including most of the top sites in Wachenheim, Forst, Deidsheim and Ruppertsberg. Ruppertsberg's Gaisbohl and Wachenheim's Rechbachel are owned by Dr. Burklin-Wolf in their entirety.
Impressive enough for the significance of its tradition and holdings, Dr. Burklin-Wolf also stands for the future: Following more than a decade in which the entire of Germany had lost its way in international markets, 1990 witnessed an infusion of fresh energy and creativity with the passing on of estate management to Bettina Burklin and her husband, Christian von Guradze.
Delving minutely into their glorious heritage, Bettina and Christian saw that the basis for a return to the world's dinner table was at hand. in the vineyards which surrounded them. Burklin wines from Riesling's Golden Era of the late 19th and early 20th centuries preserved in the estate cellars pointed the way: Rich textured, long lived, exquisite expressions of highly definitive terroirs, fermented naturally dry in traditional oak cooperage.
Recognized as a top quality grape here since the Middle Ages, Germany retains its high reputation as a premier source of the finest Riesling. Heavily planted throughout the Rheingau and Mosel, Riesling responds splendidly to these regions' extreme climatic and topographic challenges. Cold-hardy enough to survive freezing winters, and sturdy enough to withstand the warm sun, Riesling has enough natural acidity to maintain balance, even in wines with the highest levels of residual sugar. While high quality is possible in all points of the sweet to dry spectrum, Riesling typically produces wine with relatively low alcohol, high acidity, steely minerality, stone fruit, citrus, spice and floral notes. With age, Riesling can become truly revelatory, developing unique, complex aromatics, often with a hint of petrol.
WWH365RBWA2_2002
Item#
76497