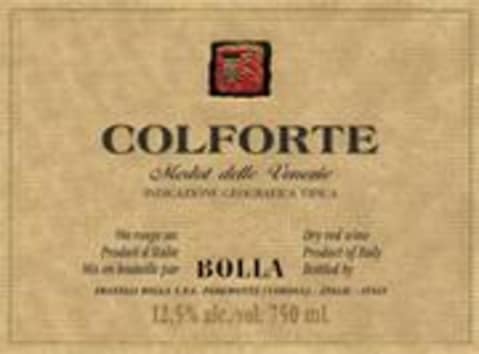 Bolla Colforte Merlot 1998
Out of Stock

(was $14.99)
Winemaker Notes
Colforte is an intensely rich, fruity, bright cherry-colored wine. The wine is cold-macerated and cold-fermented, then matured in oak barrels, giving it an interesting complexity and exceptional structure. Pairs well with duck, goose, Cornish hen, lamb, halibut, swordfish and tuna.
he cantina del Nonno (The Grandfather's cellar), the heart of the tradition, augmented in the course of time with 1700 barriques and 35 casks, still retains the Slavonian oak barrels dating back to 1883. Two very up-to-date and highly automated bottling lines conclude the production process. The cellar received the UNI EN ISO 29002 Certification and also the Agribusiness Supply Chain Traceability Certificate. Winemaker Christian Scrinzi is the interpreter of the Bolla quality. It was his grandfather who gave him his early fascination with wine through their many excursions to the vineyards around their home in Trentino, a well known wine region in Northeast Italy. These early experiences led Christian to complete his studies in agriculture and oenology and ultimately to Gruppo Italiano Vini where he is the Director of Oenology responsible for creating Bolla wines and carrying on the tradition of trusted quality that American's have come to know and love.

When asked to name common Italian red grapes, most wine drinkers would probably begin with Sangiovese and continue with various other indigenous varieties. But Merlot (along with several other international varieties) has a significant presence in Italy, with over 60,000 acres planted. Granted, much of this is everyday quaffing wine grown in the northeast by producers taking advantage of the vine's prolific nature, especially in the Veneto and Friuli.
But through much of the country the wine is grown with more care and used predominantly as a blending agent, thereby adding a certain soft, fleshy appeal to a great many reds. Of course, this practice is often not mentioned on labels. In Tuscany, Merlot appears in a wide variety of blends, as well as sometimes in Chianti Classico. In fact, Italian Merlot reaches its greatest heights in the coastal Tuscan region of Maremma. Here it appears in blends and – spectacularly – in 100% varietal expressions like Masseto, L'Apparita and Messorio. Italian Merlots such as these boast the power, concentration and complexity seen in the finest examples from Bordeaux's Right Bank.
CGM26856_1998
Item#
22578