Bodegas Mas Alta Black Slate La Vilella Alta 2015
Out of Stock

(was $20.99)
Winemaker Notes
The inspiration for the Black Slate Project is a Burgundian concept of village nomenclature, applied to the Priorat. One region, nine historic villages, each with its distinct character, but all unmistakably Priorat. Sun-scorched vines cling to breathtakingly steep hillsides with their roots deeply plunged in the llicorella soils of this pristine, ancient region.
Bodegas Mas Alta is a joint project with renowned Rhone negociant and winemaker, Michel Tardieu, and noted French enologist, Philippe Cambie. It is located in the middle of D.O.C. Priorat, based in the village of Vilella Alta. The estate vineyards are high density plantings at approximately 1050 feet above sea level, in front of Serra del Montsant, a mountain range thatreaches 3300 feet. Very steep and abrupt, the altitude, inclination, and slopes make a decisive influence on grape's maturity. The vineyards of La Viella Alta are situated on steep slopes of slates alongside of what once was the river of Escaladei. The heat of south-facing vineyards combing with the cooler north-facing parcels to create a well-balanced wine with ripe fruit and softness.
Critical Acclaim
All Vintages
Part of the Black Slate label that focused on the different villages of Priorat, the 2015 Black Slate La Vilella Alta is a blend of 39% Cariñena, 23% Garnacha, 23% Cabernet Sauvignon and the rest Syrah and Merlot that spent 14 months in 30% new French oak, with a good portion of the blend brought up all in concrete. Incredible notes of blackcurrants, wood smoke, iris flowers, chocolate, and obvious minerality all emerge from this full-bodied, beautifully pure, elegant red that knocks it out of the park on the value front. You just don't find this level of quality at this price point anywhere in the wine world today. There's roughly 2,400 cases and readers should not miss this sensational wine.
View More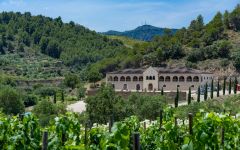 Based in the traditional village of Vilella Alta, Bodegas Mas Alta is the culmination of five Belgian partners' common desire to produce a great wine. This dream is now taking shape thanks to the advice of Michel Tardieu and Philippe Cambie, and as the result of the work done by a passionate team every day.
Choice of vineyard is crucial for the production of highly expressive wines that combine character and elegance. We have planted some 35 hectares of vines since 1999 on land classified as being part of the DOQ Priorat, carefully selecting the plots in so doing. In fact most of our vineyard is planted at altitude, on slate. Depending on the plot's characteristics, we either plant varieties traditional to this region – carignan and grenache – or varieties such as cabernet sauvignon or shiraz. These young vines, whose potential quality is already very promising, represent the future of Bodegas Mas Alta: We also purchase grapes from local winegrowers, often from the village, to make our wines. These winegrowers are the custodians of Priorat's traditional heritage.
In fact the essence of our vintages – old vines – comes from these winegrowers. Vines aged 50 years and more naturally produce fewer grapes, the first step towards quality wine...
Their deep, well-established roots thus enable them to achieve full maturity, consistency, less dependence on climatic conditions. It is without question the ultimate, pure expression of the terroir.
Tiny and entirely composed of craggy, jagged and deeply terraced vineyards, Priorat is a Catalan wine-producing region that was virtually abandoned until the early 1990s. This Spanish wine's renaissance came with the arrival of one man, René Barbier, who recognized the region's forgotten potential. He banded with five friends to create five "Clos" in the village of Gratallops. Their aim was to revive some of Priorat's ancient Carignan vines, as well as plant new—mainly French—varieties. These winemakers were technically skilled, well-trained and locally inspired; not surprisingly their results were a far cry from the few rustic and overly fermented wines already produced.
This movement escalated Priorat's popularity for a few reasons. Its new wines were modern and made with well-recognized varieties, namely old Carignan and Grenache blended with Syrah, Cabernet Sauvignon and Merlot. When the demand arrived, scarcity commanded higher prices and as the region discovered its new acclaim, investors came running from near and far. Within ten years, the area under vine practically doubled.
Priorat's steep slopes of licorella (brown and black slate) and quartzite soils, protection from the cold winds of the Siera de Monstant and a lack of water, leading to incredibly low vine yields, all work together to make the region's wines unique. While similar blends could and are produced elsewhere, the mineral essence and unprecedented concentration of a Priorat wine is unmistakable.
With hundreds of red grape varieties to choose from, winemakers have the freedom to create a virtually endless assortment of blended red wines. In many European regions, strict laws are in place determining the set of varieties that may be used, but in the New World, experimentation is permitted and encouraged resulting in a wide variety of red wine styles. Blending can be utilized to enhance balance or create complexity, lending different layers of flavors and aromas. For example, a red wine blend variety that creates a fruity and full-bodied wine would do well combined with one that is naturally high in acidity and tannins. Sometimes small amounts of a particular variety are added to boost color or aromatics. Blending can take place before or after fermentation, with the latter, more popular option giving more control to the winemaker over the final qualities of the wine.
How to Serve Red Wine
A common piece of advice is to serve red wine at "room temperature," but this suggestion is imprecise. After all, room temperature in January is likely to be quite different than in August, even considering the possible effect of central heating and air conditioning systems. The proper temperature to aim for is 55° F to 60° F for lighter-bodied reds and 60° F to 65° F for fuller-bodied wines.
How Long Does Red Wine Last?
Once opened and re-corked, a bottle stored in a cool, dark environment (like your fridge) will stay fresh and nicely drinkable for a day or two. There are products available that can extend that period by a couple of days. As for unopened bottles, optimal storage means keeping them on their sides in a moderately humid environment at about 57° F. Red wines stored in this manner will stay good – and possibly improve – for anywhere from one year to multiple decades. Assessing how long to hold on to a bottle is a complicated science. If you are planning long-term storage of your reds, seek the advice of a wine professional.
ESLEC6706_2015
Item#
364384