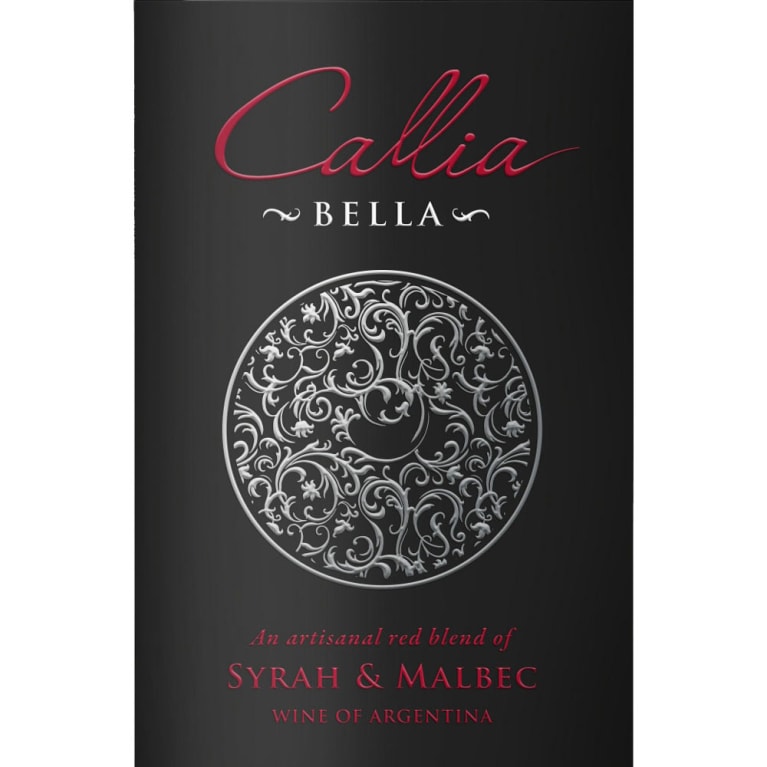 Bodegas Callia Bella 2016
Winemaker Notes
Medium ruby color. Exotic aromas of blackberry, violet, juicy plum,ripe figs and sour cherries. A balanced mouthfeel with flavors of raspberry, ripe cherry and chocolate. This enticing red blend has a touch of sweetness.
Fruit-friendly, youthful and dynamic, Callia wines inspire consumers to find some 'me' time; to take a break and reward themselves for all their daily efforts that propel them forward. Callia's philosophy is based on the notion that reconnecting with oneself and others while enjoying the simple pleasures in life, helps us to restore balance and find happiness. Born from passion and legend, Bodegas Callia is named for a young woman who arrived in the land of San Juan many years ago. She wrote to her family describing San Juan as paradise endowed with abundant fruits, despite the desert landscape. Her name was Callia and today, for the people of Argentina, Callia is synonymous with hope, endurance and success. Bodegas Callia celebrates the spirit of this illustrious woman.
The winery's goal is to produce the best wines in San Juan and the best Shiraz in Argentina. Along with creating quality wines, Callia continues to respect and support the people, nature and community surrounding the winery. Bodegas Callia is situated in the Tulum Valley in Argentina's province of San Juan. It is nestled between the Pie de Palo hills to the north and the Cerro Chico Del Zonsa to the south. Two finca estates encompass 700 acres of land: Finca Pie de Palo and Finca 9 De Julio. At 630 meters above sea level, the area is blessed by temperate climate, low rainfall and rich sandy alluvial and clay loam soil; the result is intense and fruity wines that reflect the rich terroir of this region.
Winemaker Gustavo Daroni also grew up in San Juan and became interested in winemaking from an early age. Gustavo comes from a line of winemakers, starting with is grandfather, who imparted a passion for this industry that continues to sustain his career in the field. After attending Instituto Superior de Enología de San Juan (Higher Institute of Wine-making in San Juan), he worked at Bodegas Graffigna, before coming onboard as winemaker at Bodegas Callia.
This very hot and arid region produces fine red wines from Bonarda, Syrah and Malbec and solid, fruity white wines from Pinot grigio, Viognier and Chardonnay.
With hundreds of red grape varieties to choose from, winemakers have the freedom to create a virtually endless assortment of blended red wines. In many European regions, strict laws are in place determining the set of varieties that may be used, but in the New World, experimentation is permitted and encouraged resulting in a wide variety of red wine styles. Blending can be utilized to enhance balance or create complexity, lending different layers of flavors and aromas. For example, a red wine blend variety that creates a fruity and full-bodied wine would do well combined with one that is naturally high in acidity and tannins. Sometimes small amounts of a particular variety are added to boost color or aromatics. Blending can take place before or after fermentation, with the latter, more popular option giving more control to the winemaker over the final qualities of the wine.
How to Serve Red Wine
A common piece of advice is to serve red wine at "room temperature," but this suggestion is imprecise. After all, room temperature in January is likely to be quite different than in August, even considering the possible effect of central heating and air conditioning systems. The proper temperature to aim for is 55° F to 60° F for lighter-bodied reds and 60° F to 65° F for fuller-bodied wines.
How Long Does Red Wine Last?
Once opened and re-corked, a bottle stored in a cool, dark environment (like your fridge) will stay fresh and nicely drinkable for a day or two. There are products available that can extend that period by a couple of days. As for unopened bottles, optimal storage means keeping them on their sides in a moderately humid environment at about 57° F. Red wines stored in this manner will stay good – and possibly improve – for anywhere from one year to multiple decades. Assessing how long to hold on to a bottle is a complicated science. If you are planning long-term storage of your reds, seek the advice of a wine professional.
SWS336503_2016
Item#
208548