Billecart-Salmon Brut Reserve
Ships Mon, Oct 21
Limit
0
bottles
per customer
Winemaker Notes
#18 wine in VinePair's Top 50 of 2018
Fine bubbles which rise slowly, persistent mousse. Straw-colored. A nose of ripe pear with some touches of cut hay. Full fruit, but clean in the mouth. This cuvée contains 40% Pinot Meunier, 30% Pinot Noir, 30% Chardonnay. All wines from the best sites in the department of the Marne, from more than twenty top vineyards in Champagne. The overall composition of this cuvée has not changed much for almost fifty years.
Fresh and long tasting, the Brut Réserve may be drunk on all occasions.
Critical Acclaim
All Vintages
A fine straw-gold colour with great finesse of bubble flow and mousse. Joyful aromas of apple blossom and ripe pear. A full, defined palate demonstrates richness that will help to give this a long life in the cellar.
This blend includes 40 percent pinot meunier, the balance equal parts pinot noir and chardonnay. Its remarkable fruitiness might be tied to the firm's long, slow, cool fermentations, which, they believe, allow meunier to maintain its perfume. This is a graceful, vinous Champagne with dramatic high notes of roses and red fruit, finishing clean with a grounding of pale earthiness. It's a lovely prediction of what Champagne might become in a warming climate.
A harmonious Champagne that's satiny in texture, framing flavors of Asian pear, star fruit, pastry and honey with mouthwatering acidity. Offers a fine and creamy finish. Drink now through 2021.
A most satisfying brut, the non-vintage Billecart-Salmon Brut Reserve does a great job in coating the palate with the sense of refreshment; plenty rich on the palate, with apple and other core fruits; dry in the finish. This looks like a superior main entree wine.
Plenty of ripe strawberries and wild raspberries on the nose here. Really attractive and vibrant in the mouth with fresh wild strawberries. It also shows a fleshy, fresh-fruit texture. Drink now.
This producer's nonvintage cuvée showcases a blend of grapes from all the regions of Champagne. Rich with white stone fruit, it balances ripe acidity and a taut texture. This complex wine is ready to drink.
The Billecart-Salmon NV Brut Réserve is a blend of 40% Pinot Meunier (sourced in the Vallée de la Marne and the Coteaux Sud d'Epernay), 30% Chardonnay (from different villages along the Marne) and 30% Pinot Noir (from the Montagne de Reims and the Grande Vallée de la Marne). The recent disgorgement from January 2018 is straw-yellow in color and based 40% on the 2015 harvest, with 60% of reserve wines. The result is a light and delicately fruity flavored cuvée with aromatic and spicy Pinot Meunier and redcurrant aromas intertwined with chalky expressions and notes of ripe pears and yeast. Round and fresh on the palate, this is a light, finessed, elegant, very delicate and harmoniously fruity Brut with a stunningly intense, persistent, well-structured and purely salty finish. Very stimulating as a soloist, aperitif or with lighter dishes.
View More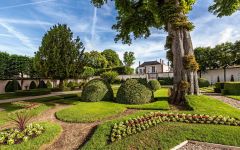 The Billecart family has been living in Mareuil-sur-Ay since the 16th century. When Nicolas Francois Billecart married Elisabeth Salmon in the early 1800s the two families' long held vineyards were married as well. This led to Nicolas' decision to leave his law practice and take over the family wine estate. In 1818 he founded the house of Billecart-Salmon which now stands as the oldest continuously family owned and operated house in Champagne. It is currently managed by the seventh generation, brothers Francois and Antoine Roland-Billecart. The cellars are in the hands of renowned "chef de cave" Francois Domi.
Billecart-Salmon owns a total of 15 hectares of vineyards. Eleven of these are in the Vallee de la Marne split between 4ha of Grand Cru in Ay and Premier Cru in Mareuil-sur-Ay and 7ha in the village of Damery. In the Cote des Blancs the family owns 4ha of Grand Cru vineyards in the villages of Chouilly, Avize and Le Mesnil-sur-Oger. With respect to harvest one of the most distinctive aspects of Billecart-Salmon is their philosophy that an early harvest yields more elegant and delicate champagnes. They look for a strong acid structure rather than alcohol as a preservative and therefore, never harvest at higher than 10 degrees of potential alcohol.
Another defining characteristic of Billecart-Salmon is their practice of double cold settling which they began in 1952. This involves a primary cold settling of the pressed juice for a period of 12 hours whereby the heaviest of the must solids fall to the bottom. The juice is then racked into clean tanks where it is chilled down to 2C for another 48 hours. This second and much colder settling eliminates any wild yeasts and additional heavy elements without the use of enzymes, filtering or a centrifuge. After the second racking, fermentation is initiated by adding dried yeasts and maintained at a long slow pace for up to 5 weeks in order to preserve as many delicate fruit aromas as possible. One varietal that benefits greatly from this is Pinot Meunier which the Billecarts believe is a vital component in world class champagnes. Many producers shy away from Meunier because it is easy to burn off its delicate aromas during fermentation. Malolactic fermentation is allowed to occur but may be blocked in certain years if the vintage conditions warrant it. Since 1987 the family has been making a certain percentage of the wines for their vintage cuvee champagnes in barrel. In these instances malolactic fermentation is always blocked.
As of 2001, Billecart-Salmon moved their winemaking into a brand new facility that they believe to be the most technically advanced in Champagne. The intricate and precise nature of Francois Domi's winemaking demanded that the family use every available resource to create the perfect environment for the production of these truly stellar champagnes. The ability to perform as many as 75 micro-fermentations simultaneously allows M. Domi the luxury of keeping many of his parcels separate until the blending phase. Overall, production levels are modest and many of Billecart-Salmon's prestige cuvees are highly allocated.
CHMblt10010nv_0
Item#
29135