Barton & Guestier Crement de Bordeaux Brut
Out of Stock

(was $19.99)
Winemaker Notes
Beautiful pale yellow color with brilliant reflections, its fine bubbles reveal a foam that is both light and persistent. On the nose it develops aromas of white flesh fruits and citrus enhanced by brioche and vanilla notes. On the palate it is powerful with a nice balance where freshness and smoothness mix. The long and elegant finish is obtained thanks to a careful aging and a unique liquor, which illustrate the know how of Barton & Guestier.
To be enjoyed as aperitif, fruits and chocolate desserts. Best served between 6°C and 8°C/ 43°F and 47°F.
Blend: 60% Cabernet Franc, 40% Semillon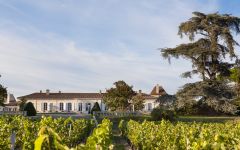 Barton & Guestier is the oldest and one of the most prestigious wine houses in Bordeaux. With nearly 300 years of history, Barton & Guestier was established in 1725 by Thomas Barton, a renowned negociant coming from Ireland. In the early 19th century, his grandson joined forces with Frenchman Daniel Guestier, a reputed importer of Bordeaux wines into Baltimore, in the British colonies in America, and the one who delivered the wines that President Thomas Jefferson had ordered from the Barton family. It remains the most iconic French wine brand bringing authentic French terroir and emotions to wine lovers all over the world.
The Barton & Guestier range represents a wonderful diversity of the best French wine appellations with about 200 passionate winegrowers over the main winegrowing regions: Bordeaux, Loire Valley, Burgundy, Beaujolais, Rhône Valley, Languedoc, Gascony and Corsica. With its wide variety of wines, Barton & Guestier enables wine lovers - from the occasional wine drinker to the connoisseur - to make a journey through France. The B&G winemaking team guarantees consistent quality and style, vintage after vintage. The company headquarters is based at Château Magnol, Haut-Médoc, a great Cru Bourgeois wine estate certified "High Environmental Value" and ISO 14001. Chateau Magnol also serves as a guesthouse and wine academy open to wine professionals from all over the world. 
One of the most important wine regions of the world, Bordeaux is a powerhouse producer of wines of all colors, sweetness levels, and price points. Separated from the Atlantic Ocean by a coastal pine forest, this relatively flat region has a mild maritime climate, marked by cool wet winters and warm summers. Annual weather differences create significant vintage variations, making Bordeaux an exciting French wine region to follow.
The Gironde estuary, a defining feature of Bordeaux, separates most of the region into the Left Bank and the Right Bank. Farther inland, where the Gironde splits into the Garonne and Dordogne Rivers, the bucolic, rolling hills of the area in between, called Entre-Deux-Mers, is a source of great quality, approachable reds and whites.
The Left Bank, dominated by Cabernet Sauvignon, contains the Médoc, Graves, and Sauternes, as well as the region's most famous chateaux. Merlot is important here as the perfect blending grape for Cabernet Sauvignon adding plush fruit and softening Cabernet's sometimes hefty tannins. Cabernet Franc, Petit Verdot and Malbec may also be used in the Left Bank Bordeaux wine blends.
Merlot is the principal Bordeaux wine variety of the Right Bank; Cabernet Franc adds structure and complexity to Merlot, creating wines that are concentrated, supple, and more imminently ready for drinking, compared with their Left Bank counterparts. Key appellations of the Right Bank include St. Emilion and Pomerol.
Dry and sweet Bordeaux white wines are produced throughout the region from Sauvignon Blanc, Sémillon, and sometimes Muscadelle or Sauvignon Gris. Some of the finest dry whites can be found in the Graves sub-appellation of Pessac-Léognan, while Sauternes is undisputedly the gold standard for sweet wines. Small amounts of rosé and sparkling Bordeaux wines are made in the region as well.
A term typically reserved for Champagne and Sparkling Wines, non-vintage or simply "NV" on a label indicates a blend of finished wines from different vintages (years of harvest). To make non-vintage Champagne, typically the current year's harvest (in other words, the current vintage) forms the base of the blend. Finished wines from previous years, called "vins de reserve" are blended in at approximately 10-50% of the total volume in order to achieve the flavor, complexity, body and acidity for the desired house style. A tiny proportion of Champagnes are made from a single vintage.
There are also some very large production still wines that may not claim one particular vintage. This would be at the discretion of the winemaker's goals for character of the final wine.