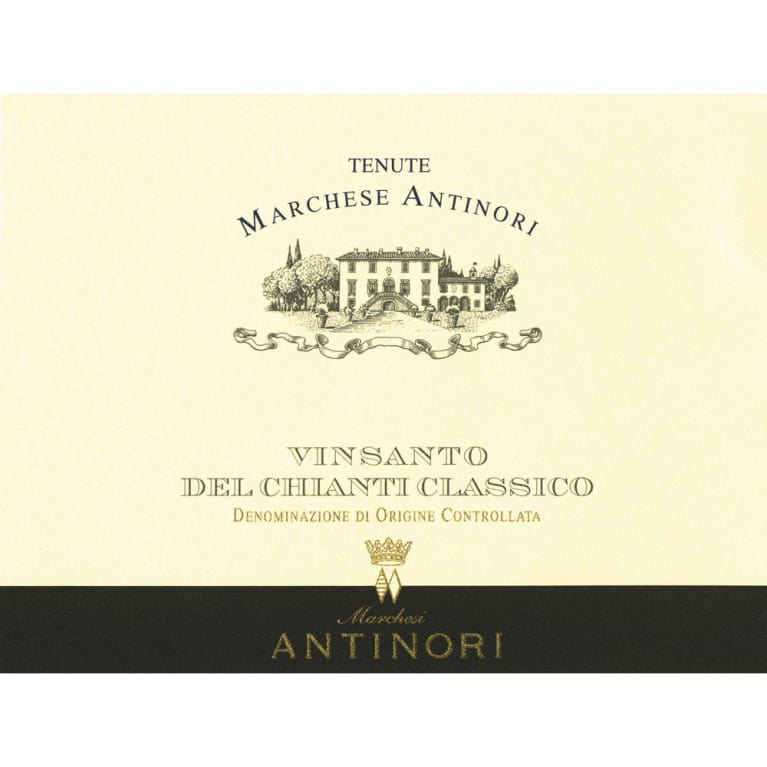 Antinori Vinsanto (500ML) 2010
Out of Stock

(was $36.99)
Winemaker Notes
Amber in color with golden highlights, the wine shows intense, complex aromas with ample nutty notes along with aromatic fig, plum and toasted almonds. These individual notes are completely fused, leading to impeccably unified aroma. The palate is well-balanced between acidity and sweetness, which give suppleness and roundness to an enveloping texture. The finish is distinctly long and fascinating.
The Antinori family has been committed to the art of winemaking for over six centuries since 1385 when Giovanni di Piero Antinori became a member of the "Arte Fiorentina dei Vinattieri," the Florentine Winemaker's Guild. All throughout its history, twenty-six generations long, the Antinori family has managed the business directly making innovative and sometimes bold decisions while upholding the utmost respect for traditions and the environment.
Today, Albiera Antinori is the president of Marchesi Antinori with the continuous close support of her two sisters, Allegra and Alessia, all actively involved in first person in the business. Their father, Marchese Piero Antinori, is the current Honorary President of the company. Tradition, passion, and intuition are the three driving forces that led Marchesi Antinori to establish itself as one of the most important winemakers of elite Italian wine. The company is one of the Founding Members of the "Associazione Marchi Storici d'Italia," an association for the protection, support and promotion of Italian historical brands. 
The family's historical heritage lies in their estates in Tuscany and Umbria, however over the years they have invested in many other areas, both in Italy and abroad, well known for producing high quality wine, opening new opportunities to appreciate and develop unique new terroirs with great winemaking potential. Each vintage, each plot of land, each new idea to be advanced is a new beginning, a new pursuit for achieving higher quality standards. As Marchese Piero loves to say "Ancient family roots play an important part in our philosophy but they have never hindered our innovative spirit."
Centered upon the lush Apennine Range in the center if the Italian peninsula, Umbria is one of the few completely landlocked regions in Italy. It's star red grape variety, Sagrantino, finds its mecca around the striking, hilltop village of Montefalco. The resulting wine, Sagrantino di Montefalco, is an age-worthy, brawny, brambly red, bursting with jammy, blackberry fruit and earthy, pine forest aromas. By law this classified wine has to be aged over three years before it can be released from the winery and Sagrantino often needs a good 5-10 more years in bottle before it reaches its peak. Incidentally these wines often fall under the radar in the scene of high-end, age-begging, Italian reds, giving them an almost cult-classic appeal. They are undoubtedly worth the wait!
Rosso di Montefalco, on the other had, is composed mainly of Sangiovese and is a more fruit-driven, quaffable wine to enjoy while waiting for the Sagrantinos to mellow out.
Among its green mountains, perched upon a high cliff in the province of Terni, sits the town of Orvieto. Orvieto, the wine, is a blend of at least 60% Trebbiano in combination with Grechetto, with the possible addition of other local white varieties. Orvieto is the center of Umbria's white wine production—and anchor of the region's entire wine scene—producing over two thirds of Umbria's wine. A great Orvieto will have clean aromas and flavors of green apple, melon and citrus, and have a crisp, mineral-dominant finish.
Apart from the classics, we find many regional gems of different styles.
Late harvest wines are probably the easiest to understand. Grapes are picked so late that the sugars build up and residual sugar remains after the fermentation process. Ice wine, a style founded in Germany and there referred to as eiswein, is an extreme late harvest wine, produced from grapes frozen on the vine, and pressed while still frozen, resulting in a higher concentration of sugar. It is becoming a specialty of Canada as well, where it takes on the English name of ice wine.
Vin Santo, literally "holy wine," is a Tuscan sweet wine made from drying the local white grapes Trebbiano Toscano and Malvasia in the winery and not pressing until somewhere between November and March.
Rutherglen is an historic wine region in northeast Victoria, Australia, famous for its fortified Topaque and Muscat with complex tawny characteristics.
SWS382745_2010
Item#
146200