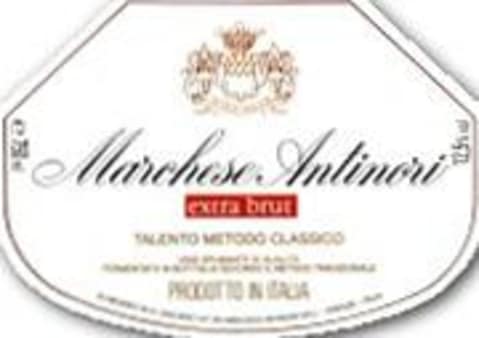 Antinori Brut
Out of Stock

(was $40.99)
Winemaker Notes
Brilliant, very pale gold in colour; with a fine bread and rich freshly baked bread flavours.
The Antinori family has been committed to the art of winemaking for over six centuries since 1385 when Giovanni di Piero Antinori became a member of the "Arte Fiorentina dei Vinattieri," the Florentine Winemaker's Guild. All throughout its history, twenty-six generations long, the Antinori family has managed the business directly making innovative and sometimes bold decisions while upholding the utmost respect for traditions and the environment.
Today, Albiera Antinori is the president of Marchesi Antinori with the continuous close support of her two sisters, Allegra and Alessia, all actively involved in first person in the business. Their father, Marchese Piero Antinori, is the current Honorary President of the company. Tradition, passion, and intuition are the three driving forces that led Marchesi Antinori to establish itself as one of the most important winemakers of elite Italian wine. The company is one of the Founding Members of the "Associazione Marchi Storici d'Italia," an association for the protection, support and promotion of Italian historical brands. 
The family's historical heritage lies in their estates in Tuscany and Umbria, however over the years they have invested in many other areas, both in Italy and abroad, well known for producing high quality wine, opening new opportunities to appreciate and develop unique new terroirs with great winemaking potential. Each vintage, each plot of land, each new idea to be advanced is a new beginning, a new pursuit for achieving higher quality standards. As Marchese Piero loves to say "Ancient family roots play an important part in our philosophy but they have never hindered our innovative spirit."
One of the most iconic Italian regions for wine, scenery and history, Tuscany is the world's most important outpost for the Sangiovese grape. Tuscan wine ranges in style from fruity and simple to complex and age-worthy, Sangiovese makes up a significant percentage of plantings here, with the white Trebbiano Toscano coming in second.
Within Tuscany, many esteemed wines have their own respective sub-zones, including Chianti, Brunello di Montalcino and Vino Nobile di Montepulciano. The climate is Mediterranean and the topography consists mostly of picturesque rolling hills, scattered with vineyards.
Sangiovese at its simplest produces straightforward pizza-friendly Tuscan wines with bright and juicy red fruit, but at its best it shows remarkable complexity and ageability. Top-quality Sangiovese-based wines can be expressive of a range of characteristics such as sour cherry, balsamic, dried herbs, leather, fresh earth, dried flowers, anise and tobacco. Brunello, an exceptionally bold Tuscan wine, expresses well the particularities of vintage variations and is thus popular among collectors. Chianti is associated with tangy and food-friendly dry wines at various price points. A more recent phenomenon as of the 1970s is the "Super Tuscan"—a red wine made from international grape varieties like Cabernet Sauvignon, Merlot, Cabernet Franc and Syrah, with or without Sangiovese. These are common in Tuscany's coastal regions like Bolgheri, Val di Cornia, Carmignano and the island of Elba.
A term typically reserved for Champagne and Sparkling Wines, non-vintage or simply "NV" on a label indicates a blend of finished wines from different vintages (years of harvest). To make non-vintage Champagne, typically the current year's harvest (in other words, the current vintage) forms the base of the blend. Finished wines from previous years, called "vins de reserve" are blended in at approximately 10-50% of the total volume in order to achieve the flavor, complexity, body and acidity for the desired house style. A tiny proportion of Champagnes are made from a single vintage.
There are also some very large production still wines that may not claim one particular vintage. This would be at the discretion of the winemaker's goals for character of the final wine.