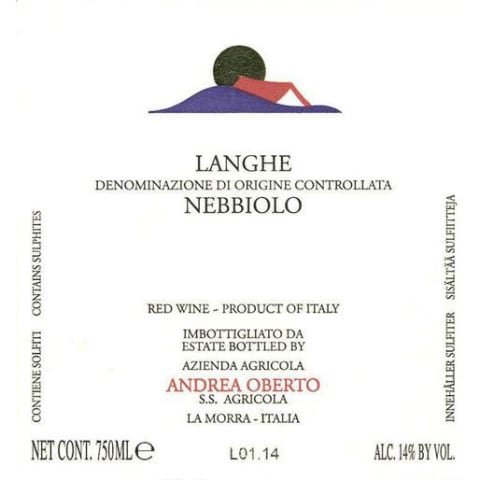 Andrea Oberto Langhe Nebbiolo 2014
Winemaker Notes
Ruby-red colour with delicate garnet reflections. Complex and fruity aroma with fine scents of violet. Rich, warm, robust mouth with long-lasting finish providing smooth tannic sensations
The Andrea Oberto winery has humble origins. Everything began in 1959 when the Oberto family bought a farmhouse in La Morra. At that time, the farmers couldn't survive with just one crop, therefore, they earned a living growing peaches and grapes and raising cows. Everybody had to contribute to the upkeep of the family so the children took part in the family business from when they were teenagers. However, when the farmer's children became adults, they often had to leave home in order to look for a job elsewhere because there wasn't enough work for everyone in the family business. This is the reason why Andrea, a second generation family member, at a certain point in his life, decided to leave La Morra to start working for a big company as a truck driver. In 1978 Andrea's father died unexpectedly. He inherited the family land and began managing the farm. He decided to leave his job in the big company and dedicate the rest of his life to the vineyards he had worked in for so many years. Over the years, the demand for high quality wine increased and this encouraged many farmers like Andrea to focus solely on growing grapes. By devoting all of his time and energy in order to realize his dream, Andrea transformed a small farm into a wine company with sixteen hectares as well as a wine production of 100,000 bottles of prestigious wine which is currently sold all over the world.
Attracting the most glory, prestige and fame to the Piedmont region, Nebbiolo in all of its expressions—Barolo, Barbaresco, Roero, Ghemme and Gattinara—creates a complex wine, truly unique for its delicate qualities combined with strength and a great potential to improve over time.
But Nebbiolo isn't all there is to red wine from Piedmont! Barbera is the most planted variety and historically most popular as a dependable, food-friendly, everyday wine.
Beyond these two, a surprising number of red varieties call Piedmont their home. Worth a try include Dolcetto for its bold concentration and aromas of spice cake. Other grapes to investigate include Freisa, Croatina, Brachetto, Grignolino and Pelaverga.
REG754006714_2014
Item#
177854