Amador Whiskey Co. Double Barrel Wheated Bourbon
Out of Stock

(was $38.99)
Distiller Notes
Amador Whiskey Double Barrel Wheated Chardonnay Barrel Bourbon is an elevated bourbon that blends the familiar flavors of the south with the spirit of the golden state. Crossing the plains to California, Amador Whiskey Double Barrel Wheated Chardonnay Bourbon landed in the sprawling hills of Napa Valley. This high-wheated bourbon was first aged three years in new charred American oak barrels, where it took on enticing notes of brown sugar, nuts and hints of baking spices. The liquid gold was finished in medium toast French oak Chardonnay barrels for 9 to 12 months in Napa Valley. The Chardonnay barrels infuse vanilla flavors and create a creamy mouthfeel that offers a long, satisfying finish. This copper classic delivers notes of vanilla, caramel, butterscotch and roasted almonds that seamlessly intertwine with hints of honey and tobacco for a rich and full-bodied drink, whether neat, over ice, or in a favorite whiskey cocktail.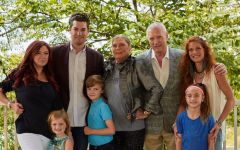 Amador Whiskey Company, is passionate about making limited-production, luxury whiskey. Their first creation was Amador Whiskey 10-Barrel, a California straight hop-flavored whiskey crafted with a craft California IPA beer and finished in Napa Cellars Chardonnay barrels. Their second offering, Amador Whiskey Co. Double Barrel, marries the best of Kentucky whiskey with different wine barrel finishes. They hope you enjoy these exceptional whiskies as much as they enjoyed creating them.
Although Bourbon may be produced anywhere in the United States, it is most commonly associated with Bourbon County, Kentucky, where it has been produced since the late 18th century. Made from a mash bill containing at least 51% corn, the Bourbon Whiskey distillate must be aged in new, charred white oak barrels. Bourbon Whiskeys are bottled at eighty proof (40% abv) or higher and cannot contain any added color or flavor. A versatile spirit that can be sipped neat, with water or on the rocks, it also performs nicely added to cocktails like the Old Fashioned.