Allegrini Amarone 2010
Out of Stock

(was $69.99)
Winemaker Notes
This Amarone is deep ruby red, with aromas of raisins, spices, black cherries, and mocha. On the palate, the wine is well-structured, complex, and elegant, with velvety tannins, and a long finish.
Critical Acclaim
All Vintages
Boasting an enviable combination of opulence and finesse, this opens with aromas of black plum, vanilla, baking spices and grilled herbs. The rich palate doles out plum cake, black cherry, black pepper, cinnamon and nutmeg alongside smooth, velvety tannins. Gripping intensity holds on through the long finish. Drink through 2025.
An elegant red that seamlessly integrates supple tannins and mouthwatering acidity with a core of plump cherry, fig paste, dried thyme and melted licorice flavors. The long, spiced finish shows a streak of smoky mineral. Drink now through 2030.
I just love the process on how Amarone is made (Appassimento) drying the grapes for several months resulting in a raisiny kind of wine and in the case of the superb 2010 Allegrini, the job was carried out to perfection. This one would be a great match with aged Parmigiano-Reggiano. Deep ruby, black in color; high-impact aromas of raisins and other dried fruits; full bodied and solidly built on the palate, sweet tannins keep the wine in form; rich and lasting black fruit flavors, some tar, earth and raisins; long finish. (Tasted: March 30, 2016, San Francisco, CA USA)
The 2010 Amarone della Valpolicella Classico takes a modern spin on a local classic. The blend is 90% Corvina Veronese with smaller parts Oseleta and Rondinella that add color intensity. The wine's leading aromas revolve around Morello cherry and dark blackberry. But this New World Amarone also undergoes 18 months in new barrique. Its secondary aromas are vibrant and bold with cumin, dark spice and barbecue smoke. In the mouth, this Amarone offers velvety tannins and thick consistency.
View More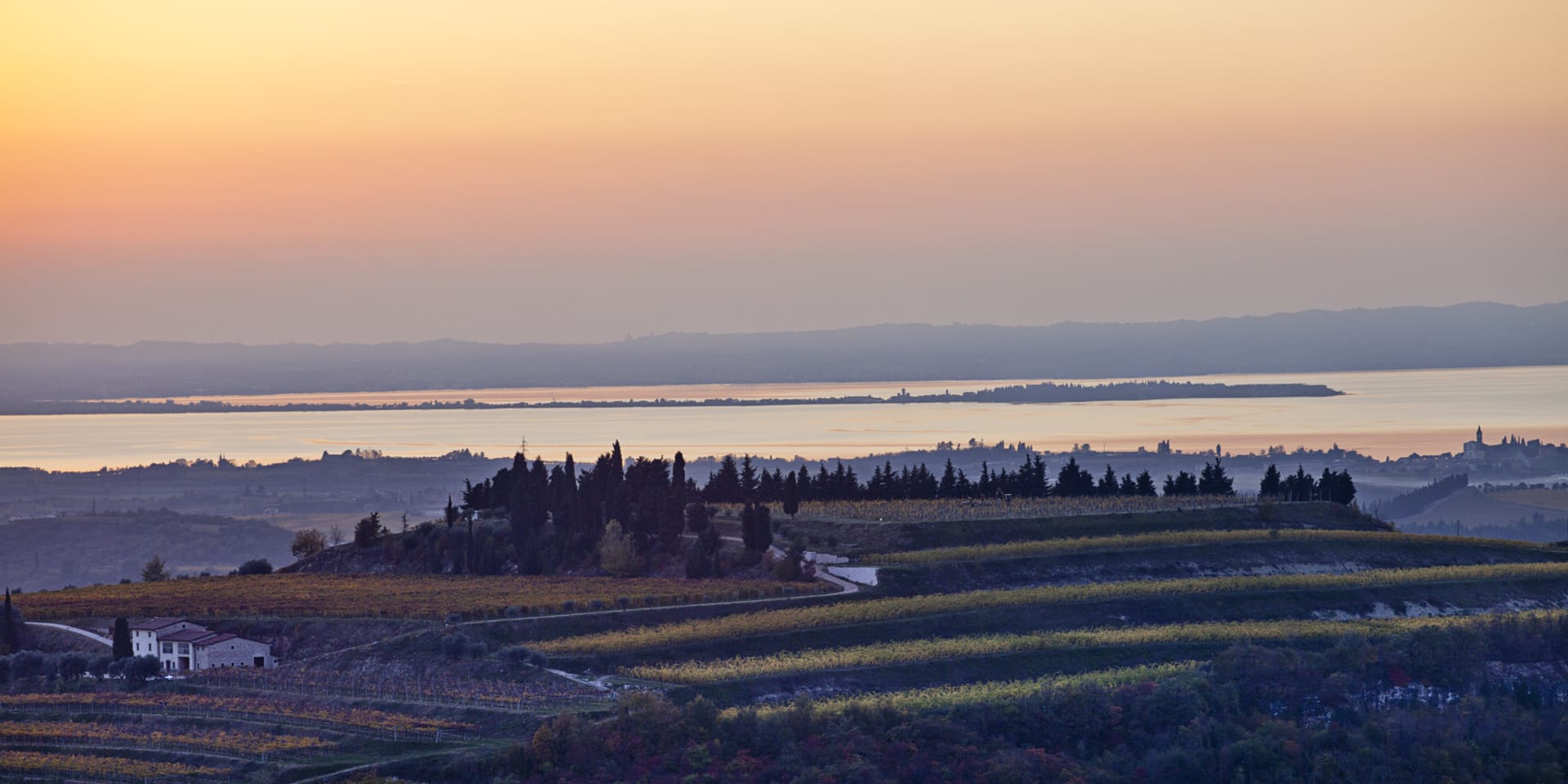 Allegrini is the Veneto's most acclaimed winery, and their Amarone is the gold standard. The Allegrini family has been handing down grapegrowing and winemaking traditions over six generations, playing a major role in the Valpolicella Classico area since the 16th century.
Giovanni Allegrini is the patriarch of the modern estate and has worked hard to develop and perfect major innovations in the art of wine, particularly when it comes to Amarone. He was among the first in questioning local viticultural techniques, revolutionizing accepted practices, and speaking clearly about quality. He was able to combine the science of enology with strict grape selection, and between 1960 and 1970, made some of the Valpolicella's best wines.
The estate is based in Fumane di Valpolicella, just north of Verona in northeastern Italy. Valpolicella, or "valley of many cellars" is an area crossed from north to south by a series of hills, which in succession form three parallel valleys. These valleys are crossed by steep-sided, narrow riverbeds which remain dry except during spring thaws or autumn rains.
With 247 acres of vineyards in the Valpolicella Classico, the Allegrinis nurture a collection of remarkable sites, each with its own personality, soil, and microclimate. Together, they speak to the rich history and extraordinary quality of Valpolicella. All seven vineyards, ranging from the steep hillsides of La Grola to the perfect plateau of La Poja, offer unique, special terroir to express the full range of what is possible in one of Italy's most prestigious and storied winemaking regions. The family has been a leader in a marrying traditional winegrowing styles with vineyard innovation, introducing modern trellis techniques, site, and varietal selection through meticulous evaluation.
Allegrini's winemaking philosophy is largely based on the concept of "cru" production: a single vineyard dedicated to the production of local varieties destined to become a single wine. These crus have been a success worldwide: The Palazzo della Torre, La Grola and La Poja have set the highest benchmarks for Valpolicella's wines.
Producing every style of wine and with great success, the Veneto is one of the most multi-faceted wine regions of Italy.
Veneto's appellation called Valpolicella (meaning "valley of cellars" in Italian) is a series of north to south valleys and is the source of the region's best red wine with the same name. Valpolicella—the wine—is juicy, spicy, tart and packed full of red cherry flavors. Corvina makes up the backbone of the blend with Rondinella, Molinara, Croatina and others playing supporting roles. Amarone, a dry red, and Recioto, a sweet wine, follow the same blending patterns but are made from grapes left to dry for a few months before pressing. The drying process results in intense, full-bodied, heady and often, quite cerebral wines.
Soave, based on the indigenous Garganega grape, is the famous white here—made ultra popular in the 1970s at a time when quantity was more important than quality. Today one can find great values on whites from Soave, making it a perfect choice as an everyday sipper! But the more recent local, increased focus on low yields and high quality winemaking in the original Soave zone, now called Soave Classico, gives the real gems of the area. A fine Soave Classico will exhibit a round palate full of flavors such as ripe pear, yellow peach, melon or orange zest and have smoky and floral aromas and a sapid, fresh, mineral-driven finish.
Much of Italy's Pinot grigio hails from the Veneto, where the crisp and refreshing style is easy to maintain; the ultra-popular sparkling wine, Prosecco, comes from here as well.
With hundreds of red grape varieties to choose from, winemakers have the freedom to create a virtually endless assortment of blended red wines. In many European regions, strict laws are in place determining the set of varieties that may be used, but in the New World, experimentation is permitted and encouraged resulting in a wide variety of red wine styles. Blending can be utilized to enhance balance or create complexity, lending different layers of flavors and aromas. For example, a red wine blend variety that creates a fruity and full-bodied wine would do well combined with one that is naturally high in acidity and tannins. Sometimes small amounts of a particular variety are added to boost color or aromatics. Blending can take place before or after fermentation, with the latter, more popular option giving more control to the winemaker over the final qualities of the wine.
How to Serve Red Wine
A common piece of advice is to serve red wine at "room temperature," but this suggestion is imprecise. After all, room temperature in January is likely to be quite different than in August, even considering the possible effect of central heating and air conditioning systems. The proper temperature to aim for is 55° F to 60° F for lighter-bodied reds and 60° F to 65° F for fuller-bodied wines.
How Long Does Red Wine Last?
Once opened and re-corked, a bottle stored in a cool, dark environment (like your fridge) will stay fresh and nicely drinkable for a day or two. There are products available that can extend that period by a couple of days. As for unopened bottles, optimal storage means keeping them on their sides in a moderately humid environment at about 57° F. Red wines stored in this manner will stay good – and possibly improve – for anywhere from one year to multiple decades. Assessing how long to hold on to a bottle is a complicated science. If you are planning long-term storage of your reds, seek the advice of a wine professional.
WWH138169_2010
Item#
139767