Albert Boxler Reserve Pinot Gris 2019
Ships today if ordered in next 11 hours
Winemaker Notes
This Reserve Pinot Gris is ripe, rich, and luxurious, marked by palate-coating notes of ripe apricot, dried fruit, honey, and smoky ginger. This aromatic and complex Pinot Gris will totally have your head spinning, we promise.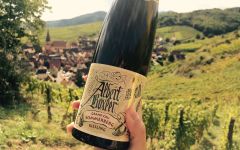 The small family domaine in France that works traditionally using techniques and savoir faire passed down across multiple generations is under serious threat today. Consolidation, technology, regulation, foreign investment, globalization, and many other factors (all in the name of progress), threaten the great agricultural tradition of winegrowing in France, arguably the world's greatest winegrowing culture. Few domaines in France embody this way of life more ably and proudly than Domaine Albert Boxler in Niedermorschwihr. Jean Boxler, many generations removed from his ancestor of the same name that moved here from Switzerland in 1673, currently rules the roost at this humble yet incredibly exciting domaine. Intense and serious about his land, his craft, and his wine, Jean is the genius behind what are certainly some of the finest white wines in Alsace (and the world).
World War II brought Jean's grandfather Albert back to Niedermorschwihr from Montana, where he was busy enjoying the natural gifts of big sky country. After the war Albert returned to the family domaine in time to harvest the 1946 crop. He became the first generation to bottle the family's production himself and commercialize it under a family label. The wine still wears a label drawn by his cousin in 1946. Albert's son Jean-Marc continued the tradition for several decades until passing the baton to his son Jean in 1996.
The family's holdings are centered around the ancient village of Niedermorschwihr in the Haut-Rhin, dominated by the imposing granite hillside grand cru, Sommerberg. Jean vinifies micro-parcels within this cru separately, de-classifying some into his Réserve wines and producing multiple bottlings of Sommerberg from the different lieux-dits depending on the vintage. Sommerberg gives racy, intensely structured, very long-lived wines. Riesling, Pinot Gris, and Pinot Blanc are the specialties of the domaine, Jean also produces one of Alsace's best Crémants (and Edelzwickers), an incredible Gewurztraminer grown in limestone, and some of the most hauntingly pure Vendanges Tardives and SGNs in all of Alsace. If that weren't enough, the Boxlers also own land in the powerful grand cru Brand, the ultimate counterpart to their holdings in Sommerberg.
The Sommerberg hillside terminates in Jean's driveway, making it easy to basically live in the vineyards, ensuring exceptionally healthy fruit year after year. After harvest, the wines are vinified and aged in old foudres in a small cellar underneath the family home until bottling. Not much has changed over the centuries; not much has needed to. Tasting through the entire range of Boxler's wines is ample proof of the fact that Alsace, along with Burgundy, is the source of the world's most complex, exciting white wines, and will probably always be.
With its fairytale aesthetic, Germanic influence and strong emphasis on white wines, Alsace is one of France's most unique viticultural regions. This hotly contested stretch of land running north to south on France's northeastern border has spent much of its existence as German territory. Nestled in the rain shadow of the Vosges mountains, it is one of the driest regions of France but enjoys a long and cool growing season. Autumn humidity facilitates the development of "noble rot" for the production of late-picked sweet wines, Vendange Tardive and Sélection de Grains Nobles.
The best wines of Alsace can be described as aromatic and honeyed, even when completely dry. The region's "noble" varieties, the only ones permitted within Alsace's 51 Grands Crus vineyards, are Riesling, Gewurztraminer, Muscat, and Pinot Gris.
Riesling is Alsace's main specialty. In its youth, Alsace Riesling is dry, fresh and floral, but develops complex mineral and flint character with age. Gewurztraminer is known for its signature spice and lychee aromatics, and is often utilized for late harvest wines. Pinot Gris is prized for its combination of crisp acidity and savory spice as well as ripe stone fruit flavors. Muscat, vinified dry, tastes of ripe green grapes and fresh rose petal.
Other varieties grown here include Pinot Blanc, Auxerrois, Chasselas, Sylvaner and Pinot Noir—the only red grape permitted in Alsace and mainly used for sparkling rosé known as Crémant d'Alsace. Most Alsace wines are single-varietal bottlings and unlike other French regions, are also labeled with the variety name.
Showing a unique rosy, purplish hue upon full ripeness, this "white" variety is actually born out of a mutation of Pinot Noir. The grape boasts two versions of its name, as well as two generally distinct styles. In Italy, Pinot Grigio achieves most success in the mountainous regions of Trentino and Alto Adige as well as in the neighboring Friuli—all in Italy's northeast. France's Alsace and Oregon's Willamette Valley produce some of the world's most well-regarded Pinot Gris wine. California produces both styles with success.
Where Does Pinot Gris / Pinot Grigio Come From?
Pinot Gris is originally from France, and it is technically not a variety but a clone of Pinot Noir. In Italy it's called Pinot Grigio (Italian for gray), and it is widely planted in northern and NE Italy. Pinot Gris is also grown around the globe, most notably in Oregon, California, and New Zealand. No matter where it's made or what it's called, Pinot Gris/Pinot Grigio produces many exciting styles.
Tasting Notes for Pinot Grigio
Pinot Grigio is a dry, white wine naturally low in acidity. Pinot Grigio wines showcase signature flavors and aromas of stone fruit, citrus, honeysuckle, pear and almond. Alsatian styles are refreshing, expressive, aromatic (think rose and honey), smooth, full-bodied and richly textured and sometimes relatively higher in alcohol compared to their Italian counterpart. As Pinot Grigio in Italy, the style is often light and charming. The focus here is usually to produce a crisp, refreshing, lighter style of wine. While there are regional differences of Pinot Grigio, the typical profile includes lemon, lime and subtle minerality.
Pinot Grigio Food Pairings
The viscosity of a typical Alsatian Pinot Gris allows it to fit in harmoniously with the region's rich foods like pork, charcuterie and foie gras. Pinot Grigio, on the other hand, with its citrusy freshness, works well as an aperitif wine or with seafood and subtle chicken dishes.
Sommelier Secrets
Given the pinkish color of its berries and aromatic potential if cared for to fully ripen, the Pinot Grigio variety is actually one that is commonly used to make "orange wines." An orange wine is a white wine made in the red wine method, i.e. with fermentation on its skins. This process leads to a wine with more ephemeral aromas, complexity on the palate and a pleasant, light orange hue.
STC994941_2019
Item#
982470