Absente Absinthe
Out of Stock

(was $47.97)
Distiller Notes
Made from natural, traditional botanicals and a special century's old recipe. Absente is distilled in the tradition of absinthe from a potion of fine herbs and spices. Following are the fine ingredients that combine to create the legendary absinthe: herbs, spices angelica, anise, wormwood, peppermint, star anise, and lemon balm.
Critical Acclaim
All Vintages
Bright greenish-yellow color and a soft nose of licorice that extends to the lively palate alongside anise. Silky and off-dry, with an elegant, rich style; lovely and, despite its high proof, smooth and delicious
View More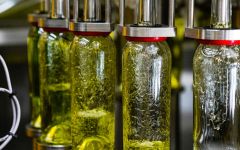 Absente is the first (and for over a decade was the only) legal absinthe containing thujone in USA. Handcrafted in the French Alps, Absente is made by following one of the oldest recipes dating back to the 19th century, as well as by using the highest quality artisanal distillation methods and ingredients, including the infamous botanical wormwood (or artemisia absinthium), the key ingredient of the authentic absinthe recipe. Added to wormwood are other 8 botanicals, such as: mugwort, anise, peppermint and lemon balm, just to name a few.. 
Absente, Absinthe Refined is delightful in so many ways. It can be enjoyed mixed with water, with the classic sugar and water mixture with a slotted spoon. Absente is also perfect on the rocks or with crushed ice in aromatic cocktails (Mojito, Tonic…)