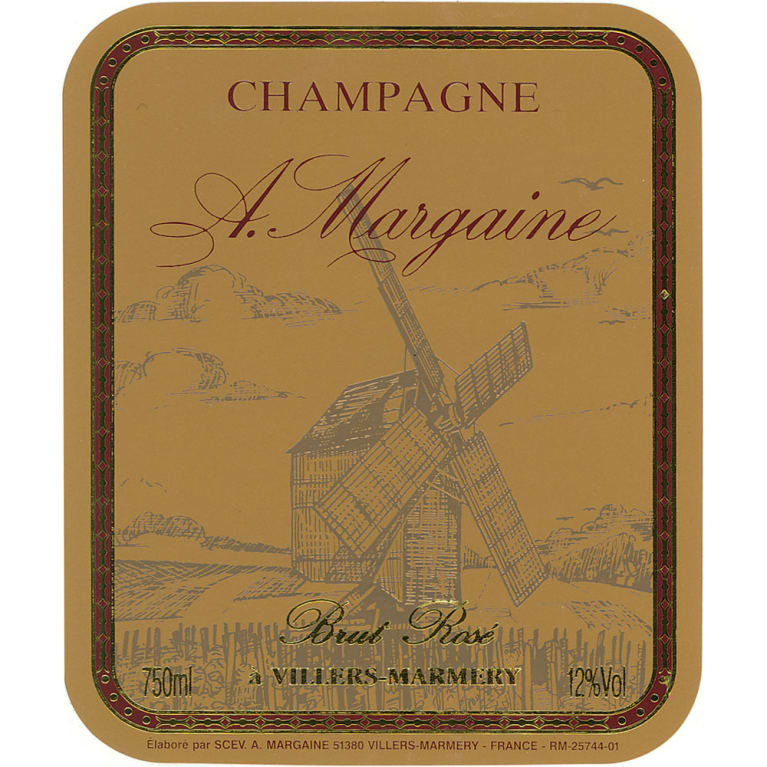 A. Margaine Brut Rose
Ships Wed, Apr 21
Limit
0
bottles
per customer
Winemaker Notes
Critical Acclaim
All Vintages
The NV Brut Rosé is positively stellar. The blend of 80% Chardonnay and 20% Pinot Noir (including 5% still Pinot) works so well here in giving the wine a real sense of proportion that is impossible to miss. In tasting, the Brut Rosé is crisp and taut, but also has more than enough depth to balance things out. Bright red berry fruit and perfumed floral notes race out of the glass, with beams of saline intensity that lend shape through to the salivating finish. Dosage is 9 grams per liter. Disgorged: June, 2020. Drinking window: 2020 - 2028
The chalky underpinning in this vibrant rosé is layered with hints of toasted hazelnut and pastry cream, enriching bright flavors of black cherry, raspberry and ground spice. Offers a mouthwatering finish of ripe fruit.
View More
An island of Chardonnay in a sea of Pinot Noir creates near Blanc de Blancs giving the most simply delicious Champagnes in this portfolio. A very small estate, 6 hectares producing around 4,000 cases. Arnaud Margaine took over this six and a half hectare estate from his father Bernard in 1989 and is the fourth generation of his family to work these vineyards in the Mogntagne de Reims. The estate was founded in the 1920s and was expanded by Bernard in the 1950s. In 1977 Bernard joined the Special Club and Arnaud has continued his father's commitment to high quality champagnes and continues to improve his raw materials in the vineyard.
The majority of Margaine's holdings are in the village of Villers-Marmery, a 95% village for Chardonnay, and the parcels here are old averaging about 32 years. Margaine also has a small parcel of Pinot Noir in the village of Verzy.
The methods at this estate are not formulaic and Arnaud continues to experiment with new ideas in both the vineyard and the cellar. He prefers to make decisions in the cellar based on what he feels the wines need, rather than what was done in the previous year. Arnaud is preventing malolactic fermentation in a higher preportion of the wines, saying that he finds that non-malo wines have more freshness of fruit. "It's not just the acidity" he says, "but the fruit as well. With the malo you lose a little of that fresh fruitiness."
Margaine has been experimenting for the last ten years with aging some of the vin clair in third and fourth use burgundy barrels as well as fermenting some parcels in barrel. Twenty percent of the wines are now fermented in barrel, but these are not used to make a barrel fermented super-cuvees; rather they are a used for blending and achieving balance in the blends. The dosage is also stored in oak barrels, which Margaine says adds additional character.
Arnaud keeps an unusually large amount of reserve wines in his cellars and starting in 2005 he began using bottles rather than stainless steel tanks for some of the reserve stocks. Bollinger is another estate who practices this and Arnaud is pleased with the results. "Aromatically the wine stays very fresh and vivacious" he says.
Associated with luxury, celebration, and romance, the region, Champagne, is home to the world's most prized sparkling wine. In order to bear the label, 'Champagne', a sparkling wine must originate from this northeastern region of France—called Champagne—and adhere to strict quality standards. Made up of the three towns Reims, Épernay, and Aÿ, it was here that the traditional method of sparkling wine production was both invented and perfected, birthing a winemaking technique as well as a flavor profile that is now emulated worldwide.
Well-drained, limestone and chalky soil defines much of the region, which lend a mineral component to its wines. Champagne's cold, continental climate promotes ample acidity in its grapes but weather differences from year to year can create significant variation between vintages. While vintage Champagnes are produced in exceptional years, non-vintage cuvées are produced annually from a blend of several years in order to produce Champagnes that maintain a consistent house style.
With nearly negligible exceptions, . These can be blended together or bottled as individual varietal Champagnes, depending on the final style of wine desired. Chardonnay, the only white variety, contributes freshness, elegance, lively acidity and notes of citrus, orchard fruit and white flowers. Pinot Noir and its relative Pinot Meunier, provide the backbone to many blends, adding structure, body and supple red fruit flavors. Wines with a large proportion of Pinot Meunier will be ready to drink earlier, while Pinot Noir contributes to longevity. Whether it is white or rosé, most Champagne is made from a blend of red and white grapes—and uniquely, rosé is often produce by blending together red and white wine. A Champagne made exclusively from Chardonnay will be labeled as 'blanc de blancs,' while ones comprised of only red grapes are called 'blanc de noirs.'
What are the different types of Champagne and sparkling wine?
Beloved for its lively bubbles, sparkling wine is the ultimate beverage for any festivity, whether it's a major celebration or a mere merrymaking of nothing much! Sparkling wine is made throughout the winemaking world, but only can be called "Champagne" if it comes from the Champagne region of France and is made using what is referred to as the "traditional method." Other regions have their own specialties—Crémant in other parts of France, Cava in Spain and Prosecco in Italy, to name a few. New World regions like California, Australia and New Zealand enjoy the freedom to make many styles, with production methods and traditions defined locally. In a dry style, Champagne and sparkling wine goes with just about any type of food. Sweet styles are not uncommon and among both dry and sweet, you'll find white, rosé—or even red!—examples.
How is Champagne and sparkling wine made?
Champagne, Crémant, Cava and many other sparkling wines of the world are made using the traditional method, in which the second fermentation (the one that makes the bubbles) takes place inside the bottle. With this method, spent yeast cells remain in contact with the wine during bottle aging, giving it a creamy mouthful, toasted bread or brioche qualities and in many cases, the capacity to age. For Prosecco, the carbonation process usually occurs in a stainless steel tank (before bottling) to preserve the fresh fruity and floral aromas imminent in this style.
What gives Champagne and sparkling wine its bubbles?
The bubbles in sparkling wine are formed when the base wine undergoes a secondary fermentation, which traps carbon dioxide inside the bottle or fermentation vessel.
How do you serve Champagne and sparkling wine?
Ideally for storing Champagne and sparkling wine in any long-term sense, they should be at cellar temperature, about 55F. For serving, cool Champagne and sparkling wine down to about 40F to 50F. (Most refrigerators are colder than this.) As for drinking Champagne and sparkling wine, the best glasses have a stem and flute or tulip shape to allow the bead (bubbles) to show.
How long does Champagne and sparkling wine last?
Most sparkling wines like Prosecco, Cava or others around the "$20 and under" price point are intended for early consumption. Wines made using the traditional method with extended cellar time before release can typically improve with age. If you are unsure, definitely consult a wine professional for guidance.